National Apprenticeship Week 2023 – Skills for Life
Published: 03/02/2023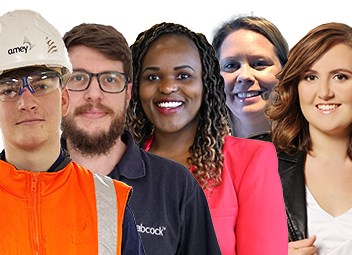 This week, 6-12 February, is National Apprenticeship Week (NAW) and the theme for 2023 is 'Skills for Life'.  Run by the Department for Education (DfE), it is a great opportunity for employers and organisations to highlight the opportunities available.
Many professionally registered engineers have started their career as apprentices and many more are involved in apprenticeships as trainers or mentors. Approved or accredited engineering apprenticeships are listed on the Engineering Council's Course Search, and these are a great way to gain the experience and knowledge for professional registration at all levels.
An apprenticeship is a paid job that includes practical training and theory. It also leads to a nationally recognised qualification. They are available to people over the age of 16, with no upper age limit, including those early in their career and career-changers. They are available at qualification levels from Level 2 (GCSE) to Level 7, equivalent to a Master's degree.
Jamie-Leigh Clayton IEng MIET started her career by applying for an apprenticeship in railway signalling design and "enjoyed the variety of the work as well as the placements". Jamie-Leigh was aware of the benefits of professional registration from the start: "Our apprenticeship scheme was accredited by the IET which enabled us upon successful completion to apply for Engineering Technician (EngTech) registration. We were then encouraged to start gathering evidence for Incorporated Engineer (IEng) and Chartered Engineer (CEng) registration. Knowing that professional registration provided current and future employers with confidence in our competence meant it was something that I was very interested in."
Ryan Lord EngTech MPWI is a Degree Apprentice at Amey Rail Ltd. He attends university once a week and is currently working on the TransPennine Route Upgrade Project. He says: "A typical day involves asking a lot of questions. I'm working with more experienced members of the team to develop my knowledge, whether that be on-site or in the office. I prefer to work on-site as you can physically seeing what is happening. However, I recognise that it is important to have a good balance as, to properly understand on-site work, you must understand the theory and office side of it." His apprenticeship has given him the opportunity to work in several different areas: Track, Signalling and currently in Power & Distribution.
Frida Nzaba EngTech TMIET says: "…in year 10 my engineering teacher started to talk about apprenticeships at Rolls-Royce. That was the first time I learned about Rolls-Royce and the careers they offered, so I decided to apply in the hope of kick-starting my career in engineering." Frida is now the Advanced Manufacturing Methods Engineering Lead at Rolls Royce, "managing a team of engineers on-shore and off-shore to develop, implement and improve methods that can be used to assemble and disassemble engines."
Carl Lavis IEng MWeldI IWS/EWS says: "When I was in school, I could see three career paths for myself in the South West: engineering, healthcare or hospitality. I had always enjoyed making things, so engineering seemed like a good path to go down. So, I looked into apprenticeships and the dockyard in Plymouth was the obvious option for a local lad." These days Carl is the Senior Welding Engineer at Babcock International, Devonport "…responsible for creating welding procedures, technical instructions, reports, managing a workstream and providing subject matter expert advice on welding, as well as looking into keeping up to date with the latest developments in joining and manufacturing technology."
Having taken an apprenticeship herself, Lucy Mawer EngTech MCIPHE RP QTLS started her own business where she took on an apprentice of her own. She is now "the head of the Plumbing department in a sixth form college, teaching different levels of plumbing to full-time students and apprentices." She says of a typical day: "In a day I could be lecturing theory, running practical skills workshops, assessing and verifying students' work. During the week I will also visit the plumbing apprentices on-site to support them in gaining evidence to complete their on-site portfolios."
You can read more about how the Engineering Council is supporting the approval and accreditation of engineering apprenticeships on our website as well as all the engineering apprenticeship news. We will be featuring case studies of more professionally registered engineers and technicians who started their careers as apprentices, every day this week. Follow us on LinkedIn and Twitter to read their stories, or visit our case studies page.
On the National Apprenticeships Week website, you'll find further apprenticeship information and resources, including webinars with major engineering employers.