Carl Lavis IEng MWeldI IWS/EWS
Published: 30/08/2022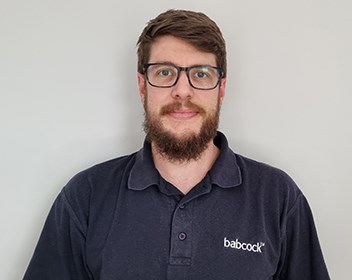 Education and qualifications:
MSc Welding Engineering, Cranfield University - currently in progress
Foundation Degree in Engineering, The Open University
TWI Welding Diploma, Technologist
International/European Welding Specialist, TWI
Job title:
Senior Welding Engineer
Employer:
Babcock International, Devonport
What inspired you to become an engineer or pointed you towards an engineering career?
When I was in school, I could see three career paths for myself in the South West: engineering, healthcare or hospitality. I had always enjoyed making things, so engineering seemed like a good path to go down. So, I looked into apprenticeships and the dockyard in Plymouth was the obvious option for a local lad.
Please describe your role or position within your workplace.
As a Senior Welding Engineer, I'm responsible for creating welding procedures, technical instructions, reports, managing a workstream and providing subject matter expert advice on welding, as well as looking into keeping up to date with the latest developments in joining and manufacturing technology.
Can you describe a typical working day?
A typical working day for me could involve sitting in a workshop and monitoring welders during procedure development, or I could be working on implementing new technologies or techniques. Alternatively, I could be sat in the office typing up reports and answering questions that require subject matter expertise. Luckily there is usually plenty of variety and different problems to solve, so not too many days are alike.
Are there any particular challenges or unusual aspects to your role?
As a welding engineer you need to have a good grasp on design, manufacturing, physics, chemistry, materials, and some electrical knowledge, as it encompasses many different disciplines. It's also widely accepted that having 'hands on' welding experience can help enhance your abilities as a welding engineer.
What do you find most enjoyable about your job?
The problem-solving aspect keeps me interested – there are always new problems popping up, and having to find different ways to either solve the problem, or work around it, gives me some satisfaction. The fact I still get to spend some 'hands on' time is definitely a plus as well.
Is there a great professional achievement or high-profile accomplishment that you would like to tell us about?
My highest profile achievement so far would be progressing through the individual learning route to gain my Incorporated Engineer (IEng) status. It's fairly unusual for someone in my organisation (as far as I'm aware) to go through that route to gain IEng.
What contributed to your decision to become professionally registered?
Because I don't have the same academic background that a lot of my peers have, becoming professionally registered was a good way to prove to myself, and any potential recruiters, that I can work at the same level as people who may have a bachelor's degree in Engineering (BEng) or similar.
In what ways has registration benefitted your career?
The fact that my experience is peer-reviewed speaks volumes. Not having a full bachelor's degree could automatically make me exempt from some job roles, however, having IEng status shows that I can still work at that level using my experience.
How does your employer benefit from your professional registration?
My employer can show customers that they have suitably experienced and qualified staff and can give assurance that high-quality work will be produced.
Is there any advice you would pass on to someone considering professional registration?
Just go for it! Speak to your peers and you'll find most people will be willing to spend time with you to help you through the process. If worst comes to worst and you were not to have your application accepted, your Professional Engineering Institution (PEI) should give you guidance on what improvements they would like to see, so you can plan a clear route going forwards.
Where do you see yourself in your career in five years' time or what are your future ambitions?
Hopefully I will have finished my Master of Science degree (MSc) and be looking towards becoming a Chartered Engineer (CEng). Having this status should open a lot of doors for me to move into more senior roles. I'm seeing automation and mechanisation coming on in leaps and bounds, so it's something I'd like to move into in the future.
Outside work, is there any activity you enjoy doing in your spare time that relates to engineering? For example, do you participate in mentoring, volunteering or membership of other engineering groups?
I'm Program Secretary for The Welding Institute's (TWI) Southwestern branch committee, organising technical talks for institute members. I am also involved with Babcock's Science, Technology, Engineering and Maths (STEM) volunteer program to hopefully inspire more people to pursue an engineering career. As well as that, I've taken up 3D printing as a hobby and I enjoy designing and printing things to solve problems people never knew they had.