Frida Nzaba EngTech TMIET
Published: 21/12/2022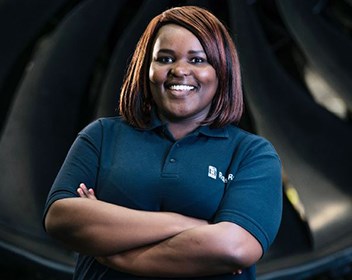 Education and qualifications:
BEng Mechanical Engineering, Sheffield Hallam University
Job title:
Advanced Manufacturing Methods Engineering Lead
Employer:
Rolls-Royce Plc
What inspired you to become an engineer or pointed you towards an engineering career?
In year nine when I was deciding which GCSEs to pick for year 10, I consulted my mum and sister and they weren't very keen on me choosing music, instead they directed me to select engineering.
My teacher inspired me to become an engineer because he was always enthusiastic about the subject and was very encouraging, and he believed that I could achieve a great career in engineering. As a result, I was filled with so much confidence. Then, in year 10 my engineering teacher started to talk about apprenticeships at Rolls-Royce. That was the first time I learned about Rolls-Royce and the careers they offered, so I decided to apply in the hope of kick-starting my career in engineering.
Please describe your role or position within your workplace.
Recently, I moved into a new role as an Advanced Manufacturing Methods Engineering Lead. This role consists of managing a team of engineers on-shore and off-shore to develop, implement and improve methods that can be used to assemble and disassemble engines. I am the point of contact for Trent 1000 and 7000 engine manual method queries and escalations from Rolls-Royce associated maintenance, repair overhaul and bases globally.
Can you describe a typical working day?
Every morning we have a production system meeting led by our manager, with the rest of the manufacturing engineers in the team. We tend to review safety, quality, cost, delivery and people in detail. This meeting lasts around 15 minutes and helps us prioritise the rest of our day and raise any escalations. I would then return to my desk and start reviewing the top priority projects and begin actioning the tasks related to the project. My day can vary as I tend to host certain meetings with stakeholders to review a project, attend standard diary meetings in the plant, action any queries raised by the shop floor.
Are there any particular challenges or unusual aspects to your role?
There are a few challenges I have faced in my role so far. One is learning how to convey my messages through email, especially if it is related to a technical query. It would be so much easier if we could see the engineers rather than communicating via emails, so I tend to try and call people as much as possible and only send emails when need be. The other challenge is to be able to focus on just one task. This is particularly difficult in a place where priorities can vary from the start to the end of the week. To overcome this, I have a to-do list and loads of sticky notes where I update the actions every two days, so when I get to work I know what to focus on, unless instructed otherwise by my manager.
What do you find most enjoyable about your job?
What excites me about my job is being able to identify a problem or an improvement idea and having the support from the team and stakeholders to resolve it in a timely manner.
Simply being able to review repair and assembly instructions on my laptop and if I don't understand anything, I have the option to go to the shop floor and review the physical component or assemblies that are referenced in the instructions to clarify any questions I may have with the fitters and inspectors on the shop floor.
The workplace is filled with so many diverse thinkers. I love being able to learn methods of how to approach a situation in a different way. As most people who know me know, I enjoy the fact that the team I am in feels like a small family because we always have each other's best interests in mind and help wherever possible. Being an engineer in such an environment certainly does help you excel because your learning curve increases exponentially, especially as you continue dealing with people from other functions within the company.
Is there a great professional achievement or high-profile accomplishment that you would like to tell us about?
I won the Institution of Mechanical Engineers (IMechE) Alastair Graham-Bryce Award 2022 and was allocated a grant to support more Science Technology Engineering and Mathematics (STEM) initiatives through my social enterprise, Edu-Cater Global. Additionally, I was a finalist for the Black British Business Awards in 2020 and also a winner of the Precious Awards Rising Star 2020. In 2013 I won BTEC Engineering Student of the Year and in 2015 I was shortlisted for the Range Rover Evoque WISE Scholarship, aimed at young women planning a career in technology and engineering in the UK. All this is on top of becoming an Engineering Technician (EngTech) through the Institution of Engineering and Technology (IET) in 2017.
What contributed to your decision to become professionally registered?
When I was in university, I remember someone from the IET came to discuss the benefits of being professionally registered and also many of my colleagues are Chartered Engineers (CEng). All of this encouraged me to work towards becoming a professionally registered engineer.
In what ways has registration benefitted your career?
Being able to have a mentor to speak to regarding my career progression and being able to seek advice from them on how to become a CEng has provided me with a steer in the right direction. Also being able to say I am an EngTech really helped me when interviewing for my current job as it shows my willingness to improve myself. It also shows the level of competency that I have reached and provides me with professional credibility.
How does your employer benefit from your professional registration?
I think my employer has more confidence in the engineers that work for them. It helps them position their engineers for the most suitable projects or to be able to guide and lead the teams because they can trust their staff are competent enough and have enough experience in the field.
Is there any advice you would pass on to someone considering professional registration?
My advice would be to get a mentor who is in your company, who has been through the professional registration process, is able to guide you in the right direction and proofread any write-ups. If you are still in education, I would recommend signing up for a mentor who is a part of the professional body you want to be registered with. On finding a mentor, ensure you maintain that relationship as it is very beneficial for your career.
Where do you see yourself in your career in five years' time or what are your future ambitions?
At the moment, my future ambitions are to work my way up into a manufacturing executive role within Rolls-Royce. Also, I plan to become a key leader in advocating for Diversity and Inclusion (D&I) within the company. Later on I would love to inspire young children/students in Africa to realise their potential in the STEM world using the social enterprise I founded, called Edu-Cater Global.
Outside work, is there any activity you enjoy doing in your spare time that relates to engineering? For example, do you participate in mentoring, volunteering or membership of other engineering groups?
Yes, I am a Rolls-Royce mentor, which has challenged me to use all the knowledge that I have accumulated over the years to advise younger indviduals of the various career paths available to them. I am also a STEM Ambassador for Rolls-Royce and Nottinghamshire, which has led me to volunteer at the Big Bang Fair in Farnborough and in primary and secondary schools.
I am an active member of the Rolls-Royce African Caribbean Pioneers Network which is an Employee Resource Group within the company. It is open to all Rolls-Royce employees and contractors, and it endeavours to make a change in terms of D&I. Within the group I am the STEM lead, accountable for organising STEM events for the members.
I am also a board member for Enterprise 4 Education Derby, and a former Women in Science and Engineering (WISE) Young Professional's Board member.
Outside work I just like to mentor and advise young people and my family and friends. However I tend to engage my creative side by writing music, singing and painting. I promised myself I would still undertake such hobbies, as this is what I initially wanted to do before I went on to become a full-time engineer.
Do you identify as disabled, or as a member of a minority or under-represented group? Would you like to comment on what impact or influence you feel this has had upon your career?
Yes I identify as a black female and this so far has not been a limitation in my career. I always try to see the positive perspective and ensure I have the right support groups around me that I can talk to in the times I may feel like this is an issue. I think having Employee Resource Groups in the company have certainly enabled our voices to be heard at senior level and to drive long-lasting changes. It's vital for companies that D&I is a part of their objectives, and to ensure they actually put practical measures in place to create an inclusive work environment that can also retain their employees.