Top 50 women in engineering - nominate an inventor or innovator
Published: 14/02/2022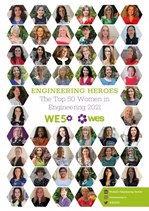 On the UN International Day of Women and Girls in Science, the Women's Engineering Society (WES) has opened nominations for this year's Top 50 Women in Engineering Awards (WE50).
WES are looking for the 50 women engineers across the UK who're making the most significant impact, through their work and their support of other women.
In 2022, the Awards will focus on 'Inventors and Innovators' - the women in engineering who identify an unmet need, then create the solution, or improve on existing products and processes to make our lives easier. For the first time, the sustainability impact of engineers' work will be part of the judging criteria.
WE50, held in association with The Guardian newspaper, exist to celebrate the contribution of women in engineering. The Awards highlight women engineers who are role models, both in terms of engineering and supporting other women.
You could choose to nominate a colleague, a peer or yourself before the deadline of 28 March. Full details of the criteria and the nomination form are available on the WES website. Details of the registrants recognised among the 2021 WE50 winners are available in our press release.