Engineering and development leaders assemble at Royal Academy of Engineering conference
Published: 27/09/2016
Over 400 people from more than 40 countries gathered at the Engineering a Better World conference in September to explore how engineering can drive progress towards the UN's Sustainable Development Goals. 
An audience of engineers, entrepreneurs, academics and experienced international development professionals heard keynote speeches from the President of Mauritius, who is a biodiversity scientist, Dr Ameenah Gurib-Fakim and Amir Dossal, President and CEO of the UN Global Partnerships Forum. The two-day event was hosted by the Royal Academy of Engineering at Savoy Place, the London home of the Institution of Engineering and Technology (IET).
Dr Gurib-Fakim said: "Only through science, technology, engineering and mathematics can we, as a global community, increase the prosperity of our people."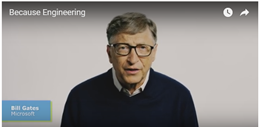 The Academy launched a video to coincide with the conference, featuring prominent individuals such as Bill Gates, Roma Agrawal and news anchor Jon Snow. Entitled Because Engineering, the video also features Dame Ann Dowling, Ratan Tata, Jeffrey Sachs and Marissa Mayer, among others, who talk about how engineering is improving lives around the world. It can be viewed by following the link: Because Engineering
The conference marked the Academy's presidency of the International Council of Academies of Engineering and Technological Sciences (CAETS). Delegates from all 26 members of CAETS took part in a series of lectures, panel discussions and workshops to share best practice in building engineering capacity.
Professor Dame Ann Dowling OM DBE FREng FRS, President of the Royal Academy of Engineering, said: "This conference isn't just about celebrating engineering's contribution to economic and social development. We also need to show how it can be improved in the years to come.
"In the UN's 17 Sustainable Development Goals, we have a challenge every bit as ambitious as President Kennedy's moonshot – and a need that is even more acute. If we are to live up to our responsibilities to the world's poorest, we need to work better and smarter as a global community."
Following the conference, the CAETS academies have agreed to take measures to boost their own capacity to meet the Sustainable Development Goals. More information about the conference is available at Engineering a Better World