Registrants recognised in the 2022 New Year's Honours List
Published: 14/01/2022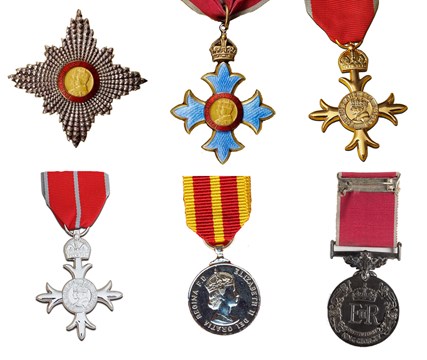 The UK Honours system recognises the extraordinary achievements and service of individuals. The recent New Year's Honours List includes a number of registrants. The engineers included on this list work in many different fields and specialisms, but have all achieved distinguished contributions to the UK.  

By becoming professionally registered, all Chartered Engineers (CEng), Incorporated Engineers (IEng) and Engineering Technicians (EngTech) have demonstrated their competence and commitment against an internationally recognised standard. This includes a personal commitment to professional standards, recognising obligations to society, the profession and the environment.

The Chair, trustees and staff of the Engineering Council would like to congratulate all the registrants who have been honoured this year: 
Dame Commander of the Most Excellent Order of the British Empire (DBE)
Air Marshal Susan Catherine Gray DBE CB OBE CEng FIET FREng
Military division, Royal Air Force Award
Professor Sarah Marcella Springman DBE CBE CEng FICE FREng
Rector and Professor of Geotechnical Engineering, ETH Zurich. For services to Engineering and to International Sports Administration
Knight Bachelor (Kt)
Professor Anthony Charles Wiener Finkelstein Kt CBE CEng FBCS FREng FIET
Lately Chief Scientific Adviser, National Security. For Public Service
Professor Robin William Grimes Kt CEng FRS FREng FNucI
Lately Chief Scientific Adviser, Ministry of Defence Nuclear. For services to UK Resilience and International Science Relationships
Dr Douglas Edwin Oakervee Kt CBE CEng FICE FIMechE FREng
Chair, Independent Review of HS2. For services to Transport and Infrastructure Delivery
Commander of the Most Excellent Order of the British Empire (CBE)
Professor Phillip Thomas Blythe CBE CEng FREng FIET
Chief Scientific Adviser, Department for Transport. For services to Science and Engineering in Transport and Government
Rachel Susan Skinner CBE CEng FREng FICE
Executive Director, WSP. For services to Infrastructure
Dr Liane Margaret Smith CBE CEng FWeldI FREng FIMMM
Founder and Director, Larkton Ltd. For services to Engineering and Materials Science
Medal of the Order of the British Empire (BEM)
Donald Maynard Brown BEM CEng MIET
Technology Volunteer. For voluntary service to Blind and Visually-Impaired People
Professor Benjamin Charles Hodgkinson BEM CEng FIMechE
Head of Mechanical Engineering, Mercedes AMG HPP. For services to the NHS during Covid-19
Officer of the Most Excellent Order of the British Empire (OBE)
Yvonne Dawn Baker OBE CEng MIChemE
Chief Executive, STEM Learning. For services to STEM Education
Alexander Mark Burns OBE CEng FIMechE
Chief Executive Officer, Robert Harter Ltd. For services to the UK Automotive Industry
Hanif Mohamed Kara OBE CEng FICE FIStructE FREng
Design Director and Co-Founder, AKT II and Professor in Practice of Architectural Technology, Harvard Graduate School of Design. For services to Architecture, to Engineering and to Education
Dr Catherine Isabel McClay OBE CEng FIET FREng
Lately Head of Futures, National Grid. For services to the Energy Sector and the Promotion of Decarbonisation
Dr Faye Catherine Smith OBE CEng FIMMM
Materials Specialist, Department for International Trade and Independent Consultant. For Public Service
Member of the Most Excellent Order of the British Empire (MBE)
Dr Agnes Aranka Kaposi MBE CEng FREng FIET
For services to Holocaust Education and Awareness
Howard Morgan Clarke MBE CEng FIET
Research Director, Morgan Innovation and Technology. For services to Business and Entrepreneurship
Professor Alan Michael Cottenden MBE CEng FIMechE MIMMM
Emeritus Professor of Incontinence Technology, University College London. For services to Sufferers of Incontinence
Mamta Rani Singhal MBE BEng (Hons) MSc MBA CEng FWES MIET
Volunteer, Institution of Engineering and Technology. For services to Engineering
The full New Year's Honours List 2022 can be found on the government's website.
For press enquiries:
Kate Webster, Engineering Council – kwebster@eng.org.uk, 020 3206 0567

The Engineering Council was incorporated by Royal Charter in November 1981 to regulate the engineering profession in the UK. This is our 40th year of setting and maintaining standards, to ensure that society continues to have confidence and trust in the engineering profession.

The Engineering Council holds the national Register of Engineering Technicians (EngTech), Incorporated Engineers (IEng), Chartered Engineers (CEng) and Information and Communication Technology Technicians (ICTTech). It also sets and maintains the internationally recognised standards of competence and ethics that govern the award and retention of these titles. By this means it is able to ensure that employers, government and wider society, both at home and overseas, can have confidence in the skills and commitment of registrants. For more information visit: www.engc.org.uk