Engineering Council signs cooperation agreement with Kuwait Society of Engineers
Published: 04/02/2020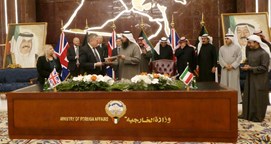 The Engineering Council has signed a cooperation agreement with the Kuwait Society of Engineers (KSE) that will enable the recognition of qualifications held by UK engineers working in Kuwait. KSE is an independent professional society that represents engineers in Kuwait.
By signing this agreement the KSE and the Engineering Council acknowledge their willingness to co-operate to enhance the relations between professional engineers and engineering associations of both countries to mutual benefit.  Both bodies are committed to extending this agreement by sharing knowledge on engineering education and professional competence.
Under the terms of this agreement, KSE will recognise Chartered Engineers (CEng) and Incorporated Engineers (IEng) for membership under KSE criteria. Professional registration with the Engineering Council will also be open to members of KSE who demonstrate that they meet the required level of competence.
The Engineering Council has worked with KSE and the Trade Department at the British Embassy to facilitate the recognition of UK engineers' qualifications, following the implementation in 2018 of new rules associated with the Engineering Act in Kuwait.
The agreement was signed in Kuwait on 2 February 2020 by Mike McLoughlin CEng IMechE FIET on behalf of the Engineering Council and by Engr. Faisal Alatel, Chairman, on behalf of KSE. The signing was part of the 15th UK-Kuwait Joint Steering Group (JSG) meeting, held twice a year at Ministerial level, and was attended by the UK's Minister for the Middle East, Dr. Andrew Murrison MP and Kuwait's Deputy Foreign Minister, His Excellency Khalid Al Jarallah.
For press enquiries:    
Kate Webster, Engineering Council – kwebster@eng.org.uk, 020 3206 0567
The Engineering Council holds the national Register of Engineering Technicians (EngTech), Incorporated Engineers (IEng), Chartered Engineers (CEng) and Information and Communication Technology Technicians (ICTTech). It also sets and maintains the internationally recognised standards of competence and ethics that govern the award and retention of these titles. By this means it is able to ensure that employers, government and wider society, both at home and overseas, can have confidence in the skills and commitment of registrants. For more information visit: www.engc.org.uk
The Kuwait Society of Engineers is an independent professional society that represents engineers in Kuwait. It provides services that support the profession, engineer and society. For more information visit: https://www.kse.org.kw/