EngineeringUK report has revealed increasing demand for engineers and growth in 'green' jobs
Published: 30/05/2023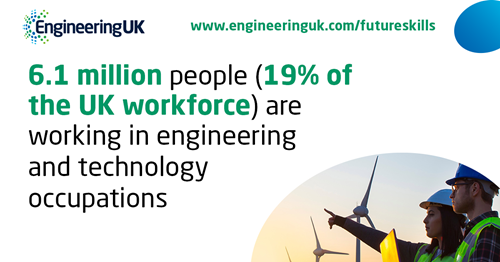 A new report commissioned by EngineeringUK has found that demand for engineers is predicted to grow faster than for other occupations and that vacancies for 'green engineering' roles in the UK have increased by more than half (55%) over the last five years.
The report, produced by Lightcast on behalf of EngineeringUK, identifies there were approximately 6.1 million engineering jobs (including tech roles) across all industries in 2021, representing around 19% of all jobs in the UK. At the same time the report finds that in the past year, recruitment activity for engineering roles accounted for a quarter (25%) of all job postings in the UK, suggesting that the skills shortage in engineering is greater than in other areas, or that employers are hiring for future growth, or a combination of the two.
With engineers playing a central role in the development of solutions to help fight climate change, the report finds engineering job advertisements mentioning a 'green skill' have increased by nearly half – rising by 48%, to 212,000 jobs postings in the year 2021 to 2022. 'Green' roles appear across a wide range of engineering sectors – from civil and electrical through to ICT and software - showing that the application of these skills is far-reaching and important to the economy at large.
Dr Hilary Leevers, Chief Executive of EngineeringUK commented, "Given the soaring demand for engineers across all sectors, it's essential that the UK has a robust plan and funding in place to train the future workforce, bringing more young people from all backgrounds into engineering and technology, alongside reskilling the current workforce."
"With the growth in green skills, and the central role engineers and technicians play in transitioning to a green economy and addressing climate change, ensuring that the sector has the skilled workforce needed to thrive is more urgent than ever."
The growing demand for engineers is also reflected in salaries on offer – with the average advertised salary in engineering (£38,600) almost 30% higher than the average salary for all occupations (£30,000).
For more information, please visit the EngineeringUK website. 
The full report 'Engineering skills needs – now and into the future' and accompanying discussion paper are available to download.