Danny Steel BEng (Hons) IEng MIMechE
Published: 03/09/2020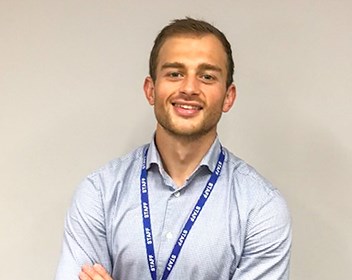 Education and qualifications:
MSc Subsea, Offshore and Pipeline Engineering, Newcastle University - current student
BEng (Hons) Mechanical Engineering, Northumbria University
NVQ Level 4 Extended Diploma, Advanced Manufacturing Engineering
HNC General Engineering
Job title:
Design Engineer
Employer:
TEAM, Inc
What inspired you to become an engineer or pointed you towards an engineering career?
Throughout my school years I always seemed to excel academically in the analytical subjects such as Mathematics and Science. I always found these subjects both challenging and mentally stimulating, and the methodical approach to teaching always seemed to better suit my style of learning - most probably with my grandfather having a career in banking and being 'good with the numbers'.
During my school years, I naturally opted for the engineering-related subjects, electing to study all of the sciences, resistant materials, and electronic products. I have always been interested in how things work, and the sciences helped satisfy some of this curiosity, whilst the other two subjects provided me with the opportunity to work with new technology and be able to use this to design and build products of my own invention.
Towards the end of my A levels, I was presented with the opportunity of university or a higher apprenticeship in engineering, with the promise of this eventually leading to a mechanical engineering degree. I opted for the apprenticeship, given that this would allow me to apply what I was learning and set a solid foundation from which I could begin developing my career.
Please describe your role or position within your workplace.
I have worked within the engineering department of TEAM for almost seven years now, and through this time I have progressed from an Undergraduate Engineering Apprentice, to Design Draughtsman, and now fulfil the role of Design Engineer, having completed the necessary academic qualifications to satisfy this position.
My current responsibilities mainly lie in supporting the design and verification of on-stream repair equipment - mechanical hardware used to restore integrity of damaged pressure systems by the method of leak sealing or providing structural support. My responsibilities can vary from assisting at the initial enquiry stage and creating technical proposals or specifications, to providing support during testing and working through installation and method statements to ensure jobs are fitted correctly and most importantly, safely.
Designs that I produce are aligned as far as practicality allows within the rules of specific codes and standards, most notably ASME Boiler and Pressure Vessel Code. Where designs cannot satisfy these rules, it becomes necessary to extend these to provide bespoke solutions. As I have developed in my role, the complexity of these scopes has continued to increase, and I am now able to perform Finite Element Analysis (FEA) to optimise my designs. I also use the computer-aided design software Solidworks to create and detail designs, and other software such as MathCAD to create bespoke design calculations.
While working in my technical capacity, in 2018 I was given the opportunity to lead the development of TEAM's on-stream repair support structure for the eastern hemisphere. This involved working with international partners and design centres to strengthen and standardise across TEAM's engineering divisions. The project involved several international placements, spending six weeks in Pune, India, and a further two weeks at a nested TEAM site in Vlissingen, Holland. I was able to provide training to implement design and quality processes with a large group of engineers, and this successfully enhanced the company's engineering resources and capabilities - over 50 projects a month are now shared between global locations. More recently, I have been seconded to refineries in the UK to provide an engineering presence and assist site representatives in reviewing work scopes, ultimately improving the services that TEAM provide.
To continue to progress with my professional development, I am currently undertaking a part-time MSc in Subsea, Offshore and Pipeline Engineering at Newcastle University, which TEAM supports with day release.
Can you describe a typical working day?
As an engineer I have the partial freedom of flexible working hours, with core working hours between 10am and 3pm, which helps me manage my time professionally to meet the business's needs. I typically start work between 8am and 9am and pick up any work that was assigned to me at the beginning of the week. Most routine work will involve design times from anywhere between three to seven hours; if I have been assigned to verify the work of a colleague this will generally take around two hours, depending on the complexity.
On occasion, I will be given a long-term project, this may take somewhere in the region of 12 weeks. This is due to the nature of approval processes and the supporting documentation required to qualify designs.
At 10am each morning there is a UK meeting with the attendance of all of the on-stream repair design engineers. This meeting provides the opportunity for the team members to highlight the progress of work scopes currently being undertaken or highlight any delays or setbacks that were previously unanticipated.
If I am not assigned to either design or verification for the day, I may be asked to support the duty engineer function. This involves supporting field service technicians during the installation of repairs and being the point of contact for clients and for the intake of newly emerging work.
Are there any particular challenges or unusual aspects to your role?
Due to the nature of plant maintenance, it is not uncommon for operators to be unaware of the deterioration of an asset until a leak has occurred. A mechanical repair is generally only a temporary solution, installed at short notice when it is not economical to shut process equipment down and repair it conventionally. As such, repairs become emergency in nature, so to support the expedited return of equipment to full operational capacity, I participate in a 24-hour on-call system to provide out-of-hours design.
Call-outs can be expected at any time during evening and weekends, and as TEAM's UK business supports overseas territories such as the Middle East, leaks found during daily inspection may not necessarily coincide with standard UK operating hours.
What do you find most enjoyable about your job?
My role at TEAM has allowed me to work with a lot of different people operating from various locations and with varying technical expertise and experiences. While working in this position, I most enjoy being part of a global team and continuously being able to learn and share experiences. I also enjoy the challenges that some of the more complex work offers and I am always looking for new opportunities within the business to continue my development in non-technical roles, which the company supports.
Is there a great professional achievement or high-profile accomplishment that you would like to tell us about?
My professional registration as an Incorporated Engineer (IEng), as a Member of the Institution of Mechanical Engineers (IMechE), is one of my biggest achievements to date. I set this as a career milestone to assist in demonstrating my competence as an engineer both academically, and through my on-the-job experience. In working towards my IEng, I put a lot of focus into my Continuing Professional Development (CPD) and in 2019 I was awarded my First-Class Honours degree from Northumbria University, while also winning the IET Manufacturing Engineering Student Prize.
I was also surprised last year by a certificate from TEAM's Executive Vice President of Engineering and Manufacturing, to recognise the success that was achieved in the development of TEAM's eastern hemisphere support structure.
What contributed to your decision to become professionally registered?
I personally like the framework of professional registration as it requires engineers not just to prove their achievements academically, but also to demonstrate their competence and commitment as a more rounded professional. I feel that achieving registration assists in validating my title as an engineer and allows other colleagues and clients to see that I am committed to my professional development and long-term career objectives.
In what ways has registration benefitted your career?
I feel professional registration has helped enhance my status in the workplace and therefore improved my confidence in all aspects of the business - from engaging with more senior colleagues and clients, to demonstrating my professional attitude when working on non-technical projects with other business areas.
I believe my registration will give me better long-term career prospects and improve my employability should I ever decide to take on a new challenge.
How does your employer benefit from your professional registration?
TEAM have always encouraged professional registration, as it helps to give clients the confidence that they are working and communicating with a competent engineer. It also allows my employer to clearly identify my career aspirations and support me so that I remain challenged and committed to the organisation long-term.
As a member of IMechE, I have also been able to attend a number of local networking events where I have been able to meet other professional engineers and gain insight into their roles - promoting TEAM and also building my confidence professionally. Likewise, I have attended several public lectures organised by my institution which allows me to broaden my engineering knowledge outside of work.
Is there any advice you would pass on to someone considering professional registration?
If you're a goal-orientated professional and looking at ways of developing your career, professional registration could be a good tool to help you set your long-term career objectives and allow you to practice and promote your development in all aspects of your engineering discipline.
Where do you see yourself in your career in five years' time or what are your future ambitions?
In the next few years I will be hoping to complete my MSc with distinction and having this assist me in working towards becoming a Chartered Engineer (CEng). I would also like to take on more responsibility at work in terms of professional leadership and to help effectively lead a larger team of engineers. In five years' time, I would like to be in a position where I am undertaking, or have considered undertaking, an MBA with the intention of being an engineering leader in the future.
Do you participate in any other career-related activities, such as mentoring, volunteering or membership of other engineering groups?
In 2017 I became a Science, Technology, Engineering and Maths (STEM) Ambassador to help enrich and enhance the learning of students considering careers in science and engineering. My main contribution to this organisation is through the mentorship and training of our work experience students. I am also a member, albeit non-active, of the Young Pipeline Professionals Europe (YPPE) and the local Young Members group of my institution. I try to attend seminars and read newsletters where possible, but my current studies rarely leave much spare time.
Outside work, is there any activity you enjoy doing in your spare time that relates to engineering?
When I'm not at work or studying I try to mostly switch off from engineering. I do however enjoy Formula 1 and follow this year-round, trying to attend a race at the end of each academic year as annual leave. I am also a keen road cyclist and enjoy other outdoor pursuits such as rowing and hiking.