Kimberly Bartlett EngTech AMILP MIET
Published: 05/09/2018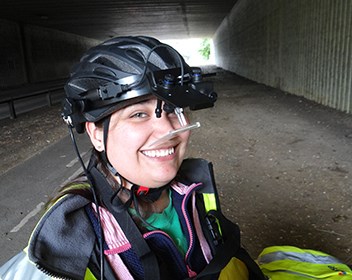 Education and qualifications: HND Electrical & Electronic Engineering
Job title: Senior Engineer – Lighting & Energy Solutions
Employer: WSP
What inspired you to become an engineer or pointed you towards an engineering career?
Oddly I fell into it after my dreams of becoming a vet didn't materialise. It was obvious that I should have been an engineer. My logical mind, love of K'Nex and understanding of how things work meant I was a perfect candidate, but for whatever reason it didn't even appear on the radar until a chance temp job at the local council. I've never looked back.
Please describe your role or position within your workplace. 
I am a senior engineer, so my role is to design but also to manage my team and support them through their development to reach their full potential.
Can you describe a typical working day?
On a normal day I undertake lighting designs for exterior applications. This can be for either local authorities or the highway authorities, Highways England, architects or developers and everything in between. The majority of my work is highway based, so I tend to be designing for roads and amenity areas, but I do on occasion get to undertake some of the more interesting and challenging designs like architectural and sports lighting.
Are there any particular challenges or unusual aspects to your role?
Lighting is a niche discipline, so we are quite a misunderstood group that face daily challenges to have our expertise understood. As with every niche discipline, you need a love of the subject to really get to grips with it.
What do you find most enjoyable about your job?
I love knowing that my work can make a difference to the world around me and that I can walk down a street and see my designs made real all over the UK. It gives me an immense feeling of pride. 
Is there a great professional achievement or high-profile accomplishment that you would like to tell us about?
At the end of 2018 I was elected as the Vice President - Education with the ILP. My big goal is to get the Institution on a par with the others in terms of education, like the Institution of Engineering and Technology and the Institution of Mechanical Engineers, where our education is easily accessible to everybody. That is the biggest thing I want to do; to enable everybody to have access all the time, whenever they need it, to a set of tools and information that's helpful to them. Hopefully, if we can do it right, we are looking to have a new platform where we can engage with members digitally. So, we're not going to be demanding that everyone traipse all over the country to spend a day physically sat in a classroom; it is going to be accessible to everyone at a time that is convenient to them, wherever they are. We're talking things like webinars, online quizzes and YouTube channels. There is very much an opportunity for us to be much more future-facing in how we deliver education.
Also, earlier in 2018 I was profiled as a successful Lesbian, Gay, Bisexual and Transgender (LGBT) engineer role model by InterEngineering which was a true honour. The campaign helps to raise the profile of engineering in an under-represented group and shows the profession to be a diverse and inclusive culture.
What contributed to your decision to become professionally registered? 
Professional registration shows that I am competent and qualified in my field, so it made sense to take the step to apply.  
In what ways has registration benefitted your career?
Registration is a mark of quality. My company and clients know that I am a trusted and competent engineer, which helps to keep me moving through the ranks in my business and institution.
How does your employer benefit from your professional registration?
My employer can be safe in the knowledge that I am qualified and recognised by the Engineering Council, which they can then use to increase take-up of services with clients. Some clients require a specific level of professional qualification to undertake certain tasks, so registration puts me in a position to provide a better service for my employer. Ultimately a registered engineer can be charged out for a higher fee, which improves profit margins.
Is there any advice you would pass on to someone considering professional registration?
Definitely go for it. Being registered gives you greater opportunities in the professional world and affords you the respect and reputation that a professionally qualified person deserves. It also gives you an opportunity to look at your skills and work out how to become a better, more effective engineer, which can only be a good thing!
Where do you see yourself in your career in five years' time or what are your future ambitions?
My main ambition is to become an expert in my field and use my influence and experience to get the world excited about engineering. It is my hope, that seeing an LGBT woman from a comprehensive school doing great things will give the generations that follow me the confidence to get out there and show their engineering grit and determination.
Do you participate in any other career-related activities, such as mentoring, volunteering or membership of other engineering groups?
I volunteer as a Science, Technology, Engineering and Mathematics (STEM) Ambassador both as part of and outside of work which is incredibly fulfilling. My goal is to get young people interested in STEM and specifically engineering. 
I am an Out Thinker for Pride in STEM https://prideinstem.org/out-thinkers/ speaking about Engineering as a profession and an educational route at places like the Science Museum and the London Design Festival. I have also spoken with academics at the Royal Academy of Engineering to help them prepare their further and higher education students for the real world of engineering after formal education ends. I hope that my passion and excitement for my discipline can inspire more girls and Lesbian, Gay, Bi and Transexual (LGBT) people to enter the profession.
I also mentor my colleagues to help them attain higher grades of membership in our institutions and professional registrations with the engineering council.
Outside work, is there any activity you enjoy doing in your spare time that relates to engineering?
I am keen on undertaking upcycling projects when I have the time and can frequently be found building and enhancing enclosures for my cats and ducks at home.