Tia K Nagi BSc EngTech MCIHT
Published: 11/09/2023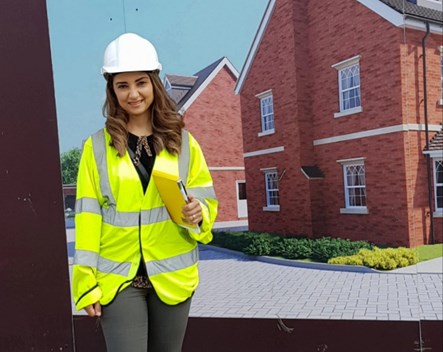 Education and qualifications
HNC Civil Engineering, Oaklands College, Borehamwood
City & Guilds Certificate: AutoCAD 2D & 3D Design, Oaklands College, Welywn Garden City
Geophysics & Geological Certificate: Geophysical/Geological Technician, South Alberta Institute of Technology Calgary Alberta
BSc Ecology: Aquatic & Terrestrial Ecology, University of Calgary, Alberta, Canada
Job title: Highways Development Management Engineer
Employer: Opus Peoples Solution (contracted to Cambridgeshire County Council, Development Management)
What inspired you to become an engineer or pointed you towards an engineering career?
My inspiration to become an engineer was an interesting journey starting with my move to the United Kingdom to be with my husband, straight after getting married. Initially I had been working in the oil and gas sector in Calgary, Alberta, Canada for almost four years before my move to the UK. Unfortunately, the Petroleum Exploration hub was in Scotland and being new to the UK, I decided to stay close to London and found a job with an offshore geotechnical engineering company called Fugro. While there I gained experience in drafting using AutoCad and began working with both geotechnical and civil engineers. I noted that engineering was technically challenging and exactly what I found highly satisfying. 
In the next company I worked for I gained further experience working with civil engineers, and with their support I began my formal foray into civil engineering by enrolling in a Civil Engineering HNC programme. I completed this programme with distinction and knew that it was what I was meant to be doing. I find it to be a most rewarding career where I am part of a professional community whose high standards contribute immensely to the public good, which has a great historical reputation and  so much potential for the future.
Please describe your role or position within your workplace.
I am currently contracted to work with the Highways Development Management Team at Cambridgeshire County Council. My role as a Development Management Engineer in the Highways Adoptions Team includes the following: I technically review, inspect and approve civil engineering drawings, and ensure that design, construction, quality and safety requirements have been met by design consultants and applicants, in accordance with Cambridgeshire County Council's Design Guide.
In my previous role I was involved with promoting the new Bracknell Forest Council internal electronic database (Uniform) for highway adoption schemes. This included managing filing systems for records, reports and references, as well as updating ward alerts for councillors with new and ongoing schemes. My role at Bracknell Forest Council also involved working on Sustainable Drainage Systems (SuDs) design schemes and becoming conversant with safety requirements in highway and drainage construction that include permeable paving design.
I am continuing this work in my current position at Cambridgeshire County Council, where my work largely centres around Section 278/Section 38 (S278/S38) agreements. S278 of the Highways Act 1980 allows a developer to carry out works to the public highway, when planning permission has been granted for a development that requires improvements to, or changes to, public highways. S38 of the Highways Act 1980 allows developers to ask the highway authority to 'adopt' new roads and associated infrastructure, meaning that the highway authority agrees to undertake maintenance of the road at the public expense.
My role includes accepting and progressing new agreement applications to completion involving highways, drainage, street lighting, services and traffic management. It also covers giving instructions to Legal Services for drafting and completion of S278/S38 agreements, including calculations of surety, bond, review of design and inspection fees, plus I assist in promoting or resolving issues to progress agreements to completion. I respond to queries from developers, consultants, contractors and legal services on S278/S38 agreements, design drawing details and works on site. This covers resolving queries and issues from members of the public or councillors too.
Finally, I am directly involved with site inspectors who oversee site inspections. These are carried out to confirm safety and good construction practices on site for traffic management, road safety and compliance with design requirements through to completion of the adoptable works or works on the existing highway.
Can you describe a typical working day?
A typical day for me starts with catching up on emails, reviewing details for meetings that may be scheduled later on in the day and completion of tasks to progress new applications or ongoing technical reviews.
During the day I attend meetings either in the office or on site, such as site visits with our Clerk of Works Inspector to ensure works are progressing as required. I keep in close contact with our Site Inspectors, Drainage Engineers, Street Lighting Engineer, Landscaping, Highway Network Team and the Highway Planners to confirm required standards are met. I also respond to issues on site, correspond with our Legal Services or Finance teams on matters around the wording of agreements or fees etc.
Once I have attended sites or meetings in the office, I follow up with outcomes from these by email, completion of tasks relating to the discussions, or progression to the next stage of the S278/38 agreement process. Basically, I keep the wheels turning on all of my schemes to the point of completion of the legal agreement and final adoption of the highway as required, while adhering to the relevant systems that are in place at Cambridgeshire County Council. Before finishing for the day, I take time to review what tasks were completed, what remain to be completed and update the information systems before the next day.
Are there any particular challenges or unusual aspects to your role?
At times, working with developers and contractors can become challenging as they may begin works on the highway without a S278 agreement or road licence/permit. This can become a serious situation if not carefully managed. I have to ensure that I am diplomatic but very firm on my stance in managing such issues. Sometimes I have to be a bit authoritarian to make sure agreements are completed before the highway works commence and that planning conditions are being adhered to.
My experience of how much developers and contractors will try to get away with is growing all the time. It's good to understand the full situation before reacting, and placing engineering standards (along with health and safety) above all else is the best policy.
What do you find most enjoyable about your job?
Being involved with schemes from start to finish and problem-solving highway construction and drainage issues using fundamental engineering principles is enjoyable, as is being able to assist in resolving issues raised by the general public relating to the schemes I have undertaken. I also enjoy assisting my colleagues with any technical issues they may be facing as this provides me with more experience.
I enjoy making processes run more efficiently, for example, during my time at Bracknell Forest Council I was involved in streamlining administrative processes as part of my role and took immense pride in this task as it has helped my colleagues to work more effectively. I undertook the mission of designing the Highways Adoption Team's drive folders to house all the filing systems for live schemes, finance, processes, master documents etc, in line with Bracknell Forest Council's movement to becoming a paperless office. 
Is there a great professional achievement or high-profile accomplishment that you would like to tell us about?
A great professional achievement for me was attaining my Engineering Technician (EngTech) registration, a recognition of my career accomplishments so far. I feel that it has provided me with confidence and I have had praise and recognition from my colleagues and my employer. It was something I have wanted to do for a few years, and it finally happened in February 2017. I am currently working towards attaining my Incorporated Engineer (Ieng) status with the Chartered Institution of Highways & Transportation (CIHT).
What contributed to your decision to become professionally registered?
My decision to be professionally registered came about from a desire to be affiliated with the fraternity of colleagues and institutions who strive to maintain standards in the engineering profession.
In what ways has registration benefitted your career?
My former employer, Waterman Aspen, recognised the achievement of my registration and commended my initiative to progress with my career. My efforts in advancing with further professional recognition and attaining career milestones has been enthusiastically encouraged. I was mentioned in the company newsletter when I attained my EngTech registration and have been approached by the CIHT to become involved in their Engineering Professional Standards Panel (EPSP).
How does your employer benefit from your professional registration?
I believe my employer would  greatly benefit from my professional registration as their profile is raised by employing professionally recognised engineers and technicians who work within a Code of Conduct, act with integrity, take responsibility and have a high level of professional competence.
Is there any advice you would pass on to someone considering professional registration?
I would advise any colleague or friend to become involved with a professional engineering institution that provides them with a clear route to achieve professional registration. They should become organised in their approach by gaining all the necessary information beforehand and do not stop believing they can achieve registration. They need to surround themselves with people who are good examples of where they want to be and find a good mentor. Also convey their aspirations to their employer, as they can be a great help in achieving goals.
Where do you see yourself in your career in five years' time or what are your future ambitions?
I see myself as a Senior Engineer and with my IEng registration. My ambition is to lead a team of my colleagues. I would also like to promote women in engineering and encourage young adults to pursue civil engineering as a career choice. I hope to become a Principal Engineer and possibly become a lecturer for a local community college to promote Highways Development Management and Engineering.
Outside work, is there any activity you enjoy doing in your spare time that relates to engineering? For example, do you participate in mentoring, volunteering or membership of other engineering groups?
A few years ago I took part in Science, Technology, Engineering and Mathematics (STEM) Ambassador activities promoting civil engineering at a local school, and I highly enjoyed encouraging teenagers to become aware of their potential skills in working with fundamental principles of engineering. 
I am currently a STEM Ambassador and have enjoyed participating in the Knex Construction Challenge along with visiting local schools to encourage young students to learn about engineering and hopefully become future engineers. I would like to get further involved in such activities to encourage young girls to become interested in engineering at an early stage to break through the myths of engineering being male orientated.