Gideon O. Akinbowale EngTech RP TMIET MCIPHE SIIRSM
Published: 09/09/2022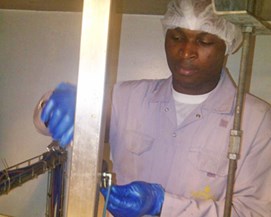 Education and qualifications:
City & Guilds Level 3 Diploma in Engineering Maintenance
City & Guilds Level 4 Higher Professional Diploma in Mechanical Engineering
Job title:
Technician
Employer:
Emirates Flight Catering (EKFC), Dubai, UAE.

What inspired you to become an engineer or pointed you towards an engineering career?
My father was a Building Service Engineer and he advised me to start my engineering career with a trade in building, either painting or plumbing, so I decided to follow his plan.
Please describe your role or position within your workplace.
I am a Technician within the Catering Equipment Team at EKFC. My main roles and responsibilities include:
Following a predetermined schedule of preventive maintenance and performing periodic maintenance of plant, equipment, machinery and facilities.
Reading schematic diagrams, equipment manuals, wiring diagrams and engineering instructions for assembling units and for carrying out maintenance work.
Devising, fabricating and assembling new or modified mechanical components for industrial machinery or equipment.
Replacing defective or improperly functioning circuitry and electronic component, using the appropriate tools.
Preparing requisitions for procurement of spare parts from the stores and maintaining relevant inventory documents.
Can you describe a typical working day?
I get up by 6am, then arrive at work by 6.50am to grab my breakfast before the daily briefing at 7.15 to 7.30am between the outgoing and incoming shift teams to ensure everyone knows the plan for the day. This meeting is to discuss safety, time management, cost, handover and pending activities to follow up. I then return to my assigned location for daily monitoring of the equipment, attending breakdown and any planned preventive maintenance that is scheduled.
Are there any particular challenges or unusual aspects to your role?
Machines and equipment that break down when there are no appropriate spare parts in stock is a challenge. Additionally, sometimes there are not enough staff to cover the shifts if colleagues have been issued sick leave from the company hospital.
What do you find most enjoyable about your job?
The sense of satisfaction when – after many calls and work orders have been received from numerous departments about broken-down equipment – a successful outcome is achieved, and preventative maintenance scheduled to stop the problem re-occurring.
Is there a great professional achievement or high-profile accomplishment that you would like to tell us about?
Becoming the first Technician to be awarded an internationally recognised professional registration (EngTech) in our Engineering Department. Gaining the City & Guilds Level 4 was also a great achievement for me.
What contributed to your decision to become professionally registered?
When I was at college, I had a lecturer that often discussed membership of a professional engineering institution and the benefits it could bring. I've kept that in mind since then and worked towards becoming a professionally registered engineer.
In what ways has registration benefitted your career?
Professional registration recognises my skills and competencies, and it has also opened doors into international opportunities.
How does your employer benefit from your professional registration?
EKFC has benefitted from my professional registration because it shows that I have a level of skills, knowledge and experience which is internationally recognised.
Is there any advice you would pass on to someone considering professional registration?
I would encourage other colleagues not to waste time and to get registered.
Where do you see yourself in your career in five years' time or what are your future ambitions?
I see myself in a more managerial position with post-nominals IEng or CEng (Incorporated Engineer or Chartered Engineer) which is something my mentor is also waiting to see.
Do you participate in any other career-related activities, such as mentoring, volunteering or membership of other engineering groups?
I am a member of the Institution of Engineering and Technology (IET), and because of that, some of my colleagues and friends come to me for advice. I talk to them about how to become professionally registered and have been encouraging them to do so. I will also be a Volunteer at Expo 2020 Dubai, the first World Expo held in the region. My role will involve welcoming visitors to the expo and giving them directions to different areas.
Outside work, is there any activity you enjoy doing in your spare time that relates to engineering?
Many of my friends are engineers and we enjoy discussing engineering-related topics. We also like to exchange related reading materials and watch engineering videos that provide insights on engineering as a career.