Dilani Selvanathan BSc EngTech MIET RAeS IMechE
Published: 20/09/2023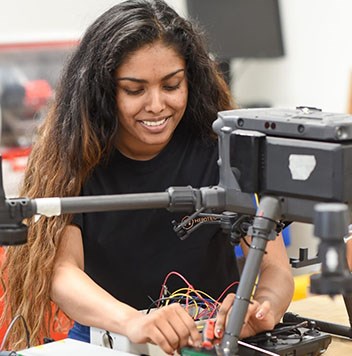 Education and Qualifications:
BSc Digital and Technology Solutions (Software Engineer), Queen Mary University of London

Job title:
R&D Software Engineer
Employer:
Herotech8
What inspired you to become an engineer or pointed you towards an engineering career?
My journey into engineering was a convergence of multiple inspirations and experiences. Early on, during my Information and Communications Technology (ICT) studies in secondary school, I discovered the fascinating world of computer science and coding, largely inspired by the remarkable achievements of English mathematician and first cited computer programmer, Ada Lovelace. Her achievements ignited a strong interest in technology and problem-solving.
Additionally, growing up, I had the privilege of assisting my father in fixing and building various objects. The hands-on experiences during these activities fuelled my passion for practical work and witnessing the tangible results when all the pieces came together flawlessly – a feeling that only engineering could provide.
The turning point came when I received my GCSE results, and it was then that I made a definitive decision to embark on an engineering path. I took a bold step by undertaking my A-level studies at Heathrow Aviation Engineering University Technical College (UTC)  which marked the beginning of my exciting journey in the field of engineering. From that point on, I have been driven by curiosity, determination, and a desire to contribute to the world through innovative engineering solutions.
Please describe your role or position within your workplace.
I am a Software Engineer at HEROTECH8, a dynamic robotics startup, and it's nothing short of exhilarating! Every day, I wake up to fresh challenges and exciting projects waiting for me. As a creative problem solver, my job is to take these brilliant ideas and bring them to life. Whether it's a hardware project, where I build and assemble components, or a software project, where I get to write code like a digital wizard, I thrive on the thrill of turning concepts into reality.
I work closely with a talented team of engineers and researchers, providing support for our rapidly growing fleet of automated drone stations. From troubleshooting software issues, and investigating and implementing solutions, to carrying out simulated and field testing, my days are filled with hands-on experiences that push the boundaries of technology. Beyond the technical aspects, my role also includes engaging with clients in meetings to update them on project progress, discussing feedback, and planning the next steps. I take immense pride in our work, knowing that the technology we develop has the potential to impact lives positively. Whether it's assisting with field testing, running drone simulations, or attending demonstration days to witness our technology in action, the satisfaction of seeing our creations at work is truly rewarding.
The best part is the opportunity to work on exciting  projects that start as mere visions and evolve into real-life applications. The sense of accomplishment, when clients use and appreciate our work, is beyond words. As I continue my journey in this adaptive, fast-paced agile environment, I'm excited about the endless possibilities that lie ahead and the chance to make a significant contribution to the future of robotics and engineering.
Can you describe a typical working day?
As the sun rises on a new day  I kickstart it  with a meeting with my manager, sharing my progress and experiences in this thrilling world of science, technology, engineering and mathematics (STEM). But the real magic begins when I join my team for a task discussion meeting. Together, we review ongoing projects, discuss challenges, and unleash our collective genius to brainstorm innovative solutions.
Throughout the day, I immerse myself in various tasks, always open to learning and growing. Whether I'm teaming up with my manager on complex endeavours or delving into exciting projects independently, the camaraderie and support we share make every challenge feel conquerable. The sheer diversity of my responsibilities keeps me engaged and excited. Whether I'm tinkering with hardware components, writing awe-inspiring code, or testing drones in the field, each moment presents an opportunity to push the boundaries of technology and contribute to ground breaking innovations.
Are there any particular challenges or unusual aspects to your role?
My role comes with its fair share of unique challenges and unusual aspects that keep me constantly engaged and thinking outside the box. One of the primary challenges is working with cutting-edge drone technology, where innovation and evolution are part of our daily routine. Staying up-to-date with the latest advancements in robotics, Internet of Things (IoT), networking, command and control, and swarm technologies requires continuous learning and adaptability.
The fast-paced and agile-based environment can sometimes be demanding, requiring quick problem-solving and the ability to handle unexpected situations efficiently. However, it also presents countless opportunities for personal and professional growth, encouraging me to challenge myself and explore new areas of expertise. Despite the challenges, the sense of accomplishment when witnessing our technology make a tangible impact on industrial inspection, security, and defence applications is incredibly rewarding and fuels my passion for engineering.
What do you find most enjoyable about your job?
Without a doubt, what I find most enjoyable about my job is the constant sense of excitement and fulfilment that comes with each task I undertake.  No two days are ever the same! The diversity of tasks keeps me on my toes, constantly learning, challenging myself, and satisfying my curiosity. Every day is an opportunity to explore new technologies, work on innovative projects, and collaborate with a passionate team of engineers and researchers. This environment of creativity and discovery fuels my curiosity and keeps me motivated to push the boundaries of what's possible in the world of robotics and engineering.
I take immense pleasure in the diversity of my responsibilities, from writing code that brings our automated drone stations to life, to engaging in hands-on hardware work, assembling and testing components. This fusion of software and practical aspects provides a unique blend of challenges that keep me on my toes and ensures that no two days are ever alike. Moreover, the opportunity to contribute to the development of cutting-edge drone technology, which plays a vital role in industrial inspection, security, and defence applications, instils a deep sense of pride and purpose in my work.
As I witness our technology in action during demonstration days or field testing, seeing the real-world impact of our creations is truly gratifying. I can't help but feel grateful for this rewarding and meaningful career that allows me to make a difference in the world. Additionally, being part of a company that fosters a culture of innovation, learning, and collaboration allows me to grow both professionally and personally. The joy of constant learning, the camaraderie among colleagues, and the chance to be at the forefront of groundbreaking advancements make my job an exciting and fulfilling adventure that I cherish each day.
Is there a great professional achievement or high-profile accomplishment that you would like to tell us about?
I am incredibly proud to have been awarded the prestigious Mary George Memorial Prize for Apprentices during the Institution of Engineering and Technology (IET) Young Women Engineer Awards Ceremony. This achievement holds significant meaning to me, as it opens doors to more opportunities for self-improvement and allows me to fulfil my mission of promoting STEM to young people across the UK, making a positive impact on the world. Being recognised for my passion and dedication to STEM and inspiring the next generation of engineers is truly humbling and motivating.
The Mary George Memorial Prize is an esteemed accolade, honouring young female apprentices who exhibit exceptional promise and potential in the engineering profession. It goes beyond mere recognition of accomplishments; it celebrates individuals who demonstrate dynamism in problem-solving, act as enthusiastic role models, and excel in leadership and teamwork. As a recipient of this prestigious award, I feel empowered to continue making a difference in the engineering field, acting as a catalyst for change and encouraging more young women to pursue careers in engineering through the apprenticeship route.
This recognition not only serves as a testament to my dedication but also provides invaluable support for my own professional development. This aligns seamlessly with my passion for inspiring the next generation while making meaningful contributions to the field of engineering. I am excited for the journey ahead and the countless opportunities to continue promoting STEM, bridging gaps, and shaping a brighter future for engineering as a whole.
What contributed to your decision to become professionally registered?
During my time at the IET Young Professionals Committee in 2021, where I proudly served as the apprentice representative, I had the invaluable opportunity to explore the array of benefits and resources the IET offers for apprentices. It was during this time that I came across the Engineering Technician (EngTech) registration and its significance in recognising the competence and commitment of Engineering Technicians. The encouragement and support I received from the IET staff further fuelled my interest in applying for EngTech registration, as I saw it as an ideal platform to showcase this opportunity to fellow apprentices.
Being part of the committee and witnessing the impact of professional registration on engineering careers, Iwas also inspired to pursue EngTech to not only elevate my own professional standing but also to serve as an example to other apprentices. I wanted to show them the value of having their skills independently assessed, their credentials verified, and their dedication to continuous professional development acknowledged. By achieving EngTech status, I hope to encourage and empower fellow apprentices to strive for excellence in their engineering journeys and to consider the immense benefits that come with professional recognition.
Overall, my involvement with the IET Young Professionals committee and the exposure to the EngTech registration reinforced my conviction in the importance of professional development and recognition in the engineering field. It has been a gratifying journey, and I am thrilled to have embarked on this path, ready to seize new opportunities and contribute to the advancement of the engineering profession.
In what ways has registration benefitted your career?
Registration as an EngTech has significantly benefited my career by providing international recognition of my professional competence and commitment, leading to improved career opportunities and salary prospects. It has also elevated my status as a professional in the field, granting me greater influence within my organisation.
Moreover, the EngTech title has connected me with influential and inspirational individuals, expanding my network and opening doors to new possibilities. Overall, obtaining an EngTech registration has been a pivotal milestone in my career, empowering me to make a positive impact in the world of engineering while continuously fostering my personal and professional growth.
How does your employer benefit from your professional registration?
My employer benefits significantly from my professional registration as an EngTech in several ways. Firstly, it provides them with the assurance that my competence and credentials have been independently assessed, ensuring that I possess the necessary skills to excel in my role. This recognition boosts their confidence in my abilities, leading to greater trust in my work and decision-making. Additionally, my EngTech registration reflects my commitment to continuous professional development, meaning I stay up-to-date with the latest advancements in the field, bringing fresh insights and knowledge to benefit the organisation. Overall, my professional registration adds credibility to the team and reinforces the company's reputation for having competent and dedicated engineering professionals.
Is there any advice you would pass on to someone considering professional registration?
If you're considering professional registration, my advice would be to embrace the process and not be daunted by it. While it may seem overwhelming at first, rest assured that the effort you put into preparing your application will be well worth it. Engaging in the EngTech registration process alongside your end-point assessment (EPA) as an apprentice is a wise move, as it streamlines the process and saves you from scrambling to gather evidence later on. It's a win-win situation that not only provides you with an internationally recognised title but also eases your journey towards achieving your career goals.
Furthermore, take advantage of the mentorship offered during the application process. Having a mentor by your side will guide you through each step, ensuring your application meets all the requirements and standards. This invaluable support will boost your confidence and increase your chances of successful registration. So, don't hesitate to pursue professional registration as an EngTech, as it will not only enhance your career prospects but also offer a sense of accomplishment and recognition for your dedication and competence in the engineering field.
As you navigate the EngTech registration process, you're also laying the groundwork and familiarising yourself with registration procedures for the next stages, whether it's Chartered Engineer (CEng), Incorporated Engineer (IEng), or Information and Communications Technology Technician (ICTTech). This understanding will prove invaluable, making subsequent registrations feel less daunting and significantly smoother. Don't hesitate to embark on the path of professional registration– it not only enhances your career potential but also signifies your commitment to excellence in the engineering domain.
Where do you see yourself in your career in five years' time or what are your future ambitions?
In the next five years, I envision myself achieving the coveted Chartered Engineer (CEng) registration, marking a significant milestone in my career and further solidifying my expertise in the engineering domain. I am deeply passionate about cutting-edge technologies, particularly in the realms of robotics and space, and my ultimate ambition is to secure a rewarding position in a forward-thinking company that specialises in developing ground breaking innovations.
Alongside my career aspirations, I am committed to continuing my mission of promoting STEM to a diverse audience and actively engaging with my local community. I firmly believe in the power of inspiring and nurturing young minds and encouraging them to pursue their dreams in STEM fields. By contributing to community initiatives, mentorship programs, and outreach events, I aim to be a catalyst for positive change, creating a brighter future for the next generation of engineers and innovators.
Outside work, is there any activity you enjoy doing in your spare time that relates to engineering? For example, do you participate in mentoring, volunteering or membership of other engineering groups?
In my spare time, I am deeply engaged in various activities related to engineering, driven by my passion for promoting STEM to diverse audiences and inspiring the next generation. As a STEM Ambassador, Women in Science and Engineering (WISE) role model, and Stemettes ambassador, I actively participate in numerous events and initiatives aimed at encouraging young people from all backgrounds to pursue careers in science, technology, engineering, and maths.
I take pride in being a part of different engineering committees, where I contribute my skills in planning, communication, creativity, and teamwork to organise impactful events, conferences, and networking opportunities. Additionally, I have had the privilege of winning awards for my dedication to promoting STEM, including the the IET Paul Fletcher Award in 2020, and the STEM Inspiring STEM Technician Award in 2021.
My journey has been deeply influenced by the opportunities and support I have received from the IET, and I am committed to giving back to the engineering community by helping others progress in their careers and promoting the importance of STEM in our society. Through my involvement in various committees and my ability to adapt to new technologies and approaches, I have honed a diverse skill set that includes event organisation, public speaking, judging competitions, and effective teamwork. With a strong belief in the transformative power of STEM, I am excited to keep contributing to initiatives that shape the future of engineering and empower individuals to pursue their passions in this dynamic field.
Do you identify as disabled, or as a member of a minority or under-represented group? Would you like to comment on what impact or influence you feel this has had upon your career?
As someone with severe ADHD and Dyslexia, as well as being a woman from an ethnic minority, I have navigated my career with determination and resilience. The diagnoses of ADHD and Dyslexia brought clarity to my unique way of thinking and functioning, and I now view them as superpowers that enrich my perspective and problem-solving abilities. Although it presents challenges, I have learned to cope with these conditions and utilise available resources to excel in my professional journey.
Despite facing these challenges, I have not encountered any negative experiences related to being a woman or a member of an ethnic minority in my career thus far. I am optimistic about the changes I see in the world, with greater efforts being made to address diversity and inclusion in the workforce. My identity as a disabled individual and as part of under-represented groups has not deterred me from pursuing my passions in STEM. Instead, it has fuelled my drive to be a role model and advocate, inspiring others to embrace their uniqueness and pursue fulfilling careers in engineering and technology. I am committed to contributing to a more diverse and inclusive future in the field, and I firmly believe that embracing our differences only strengthens our collective potential for innovation and progress.