Catherine Cobb BEng(Hons) EngTech MICE MIHE
Published: 06/05/2022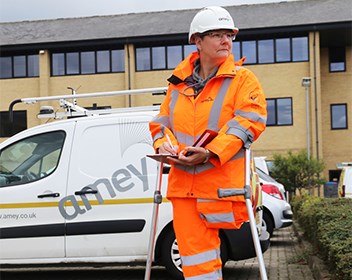 Education and qualifications:
HND Civil Engineering, Sheffield College
HNC Civil Engineering, Sheffield College
BEng (Hons) Mechanical Engineering, Sheffield Hallam University
HNC Mechanical Engineering, Chesterfield College
ONC Mechanical Engineering, Chesterfield College
HNC Quality Assurance, Rotherham College
Job title:
Traffic Signal Design Assistant Engineer
Employer:
Amey
What inspired you to become an engineer or pointed you towards an engineering career?
I lost my leg to bone cancer at the age of seven and was fitted with my artificial leg within a few months of losing it. It was crude by design but that didn't stop me from taking it to bits to see how it worked. I knew then I wanted to be an engineer.
It was my dad that inspired me to be an engineer. My dad was a blacksmith by trade and he took me under his wing to teach me all about metals and how to manipulate them for a specific purpose. I was only nine years old, but I was hooked.
I worked hard at school, only to be told that I wasn't good enough to be an engineer. I was told to concentrate on being a secretary because I could sit down all day or go on benefits, so I didn't have to work. This made me even more determined to be an engineer.
Please describe your role or position within your workplace.
In the last five years I have worked my way up from a Trainee Technician to an Assistant Engineer in Traffic Signals.
My role within my team is to make sure we work efficiently and safely to produce drawings, configuration specifications and details for pedestrian crossings, roundabouts and other junctions to flow without accidents. We, as a team, cross check each other's specifications and drawings so no mistakes are made. Trusting my colleagues plays a big part in my role at Amey.
Can you describe a typical working day?
My working day involves redesigning traffic signals as part of a Sheffield PFI (Private Finance Initiative) contract. I may be required to go out on site to inspect a new crossing or junction for traffic signals to be installed, or to revamp an existing site to current legislation. The next stage would be to create a draft drawing on AutoCAD, work out the timings using TR2500 – which is the form I use to work out the configuration required for the vehicles or pedestrians to cross safely – and the priority stages for emergency vehicles, Urban Traffic Control (UTC), Vehicle Actuation (VA) and pedestrian crossing timings. I then test my configuration on a computer program to make sure all the elements work in conjunction with my results and that the lights do not conflict with the traffic flow. Once the design has been approved and signed off, the work can begin for constructing the signals.
I also communicate with our client, the local councils, for approval and whether any traffic management is required to keep site workers and the public safe while the works are carried out. After the signals are in place I will go out on site to check alignment of the signal heads, that the lights are working in order, test the fail safes for all the signals and generally make sure all the works have been carried out safely and efficiently.
Are there any particular challenges or unusual aspects to your role?
My challenges are for me and my colleagues to stay as safe as possible; I am physically disabled so going out on site is very demanding. Planning a route to get to site and walking in general if the ground is uneven is also tricky.
When working out timings for a set of signals it is quite a challenge to make sure everyone is happy. There is a danger that if I lose concentration the timing of the signals could possibly injure pedestrians or vehicle owners. Encountering members of the public is also an issue on site. They can become irate if the lights are against them.
What do you find most enjoyable about your job?
The thing I find most enjoyable is the knowledge that I have made the roads safe with the signals I have designed. Also the innovation that is required and the ever-changing technology that is present in the signals industry. My constant learning and my approach to signal design, I really get a kick out of that!
Is there a great professional achievement or high-profile accomplishment that you would like to tell us about?
When I was at university I was awarded the 'Bill Hales Award' for the most outstanding disabled student to graduate despite illness or disability. This proved to me once and for all that engineering was the right choice for me.
What contributed to your decision to become professionally registered?
The fact that I have worked so hard in this industry and deserved recognition. I wish to progress in my chosen career and being professionally registered allows me that extra edge on other people.
In what ways has registration benefitted your career?
Gaining registration has boosted my confidence, my entire well-being, and my mental state has benefited. It opens doors.
How does your employer benefit from your professional registration?
My employer benefits from my professional registration by encouraging new people into the business. It showcases individuals who have performed well, and it shows that they are fair and equal employers.
Is there any advice you would pass on to someone considering professional registration?
Of course, don't be afraid to better yourselves. It's a little like qualifications, once you have them, they cannot be taken away from you. Be proud that you have achieved such status.
Where do you see yourself in your career in five years' time or what are your future ambitions?
Wow, five years! Well, I can safely say I am working towards my IEng in traffic signals now, but in five years' time I wish to be Chartered and possibly principal engineer in my chosen profession.
Outside work, is there any activity you enjoy doing in your spare time that relates to engineering? For example, do you participate in mentoring, volunteering or membership of other engineering groups?
My role at Amey includes being a Scope Ambassador, which basically means I promote Inclusion and Diversity for disabled employees throughout the company. My aim is to visit schools, universities and disability groups, encouraging people into engineering. I would like to see more disabled people off benefits and back into work. Also, I have a 600cc trike that I am in the process of rebuilding, but it has taken a back seat at the moment due to my work commitments.
Do you identify as disabled, or as a member of a minority or under-represented group? Would you like to comment on what impact or influence you feel this has had upon your career?
In my appearance I look and am disabled but in my head I'm just Cath with a bit missing. I don't consider myself as disabled and showing my eagerness to prove myself has only helped me to progress in my career.
As a disability ambassador for Amey I recently won the Rising Star Award 2020 in the Inclusion and Diversity category for my work in encouraging disabled and non-disabled people back into work. I give toolbox talks and travel around the country giving motivational speeches.