Shahzeb Hassan MEng CEng PEng MIChemE
Published: 28/05/2021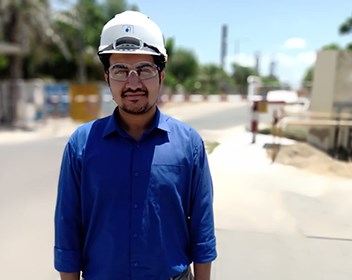 Education and qualifications:
MEng Chemical Engineering, Nadirshaw Eduljee Dinshaw (NED) University of Engineering and Technology, Pakistan
Job title:
Executive Process Engineer
Employer:
Pakistan Refinery Limited
What inspired you to become an engineer or pointed you towards an engineering career?
Chemistry or Computer Science? This was a question I used to ask myself during my high school. I loved computer programming and was fascinated by chemistry. I ended up choosing Chemical Engineering as it provided me with a platform where I could combine my knowledge of chemistry, engineering and computer programming to address real world problems.
With each passing year, I see the process industry moving more and more towards automation and digitalization, and I hope to contribute towards this growth through my passion for the field. I feel proud that I am the first and only chemical engineer in my family. Furthermore, I am currently the only Chartered Engineer (CEng) present in all the oil refineries of Pakistan. I am thankful to Allah and all the peers that played an important role in my journey.
Please describe your role or position within your workplace.
I usually provide process engineering support to plant contact engineers and senior engineers in their ongoing evaluations, such as equipment monitoring and optimisation, as well as troubleshooting plant performance issues. I develop process engineering studies to address existing plant bottlenecks.
Can you describe a typical working day?
The day starts with gathering unit process monitoring parameters and reviewing the already developed trend cycle from the last 24 hours of operation, followed by a plant visit and daily morning meeting. All refinery department representatives attend the morning meeting to discuss ongoing plant issues related to production, maintenance and inspections, which starts with a health and safety briefing. After that, a performance report is prepared and sent to Operations and senior management representatives with recommendations, as part of our continuous process improvements.
Are there any particular challenges or unusual aspects to your role?
Being a competent engineer in a team is a challenge itself, you have to prove every working day that you are the best. During the refinery turnarounds, I lead the night shift duty and look after the process safety section, in addition to my normal responsibilities. I have gone through extended turnarounds twice in my career which were no doubt learning opportunities for me because during the turnaround I am required to manage unusual activities like, for example, catalyst unloading, loading and regeneration.
What do you find most enjoyable about your job?
As technical services are considered to be a core department of the refinery, I find it enjoyable to do small-scale research by using process simulation tools. For example, I used process simulation tools to verify data and confirm some of the principles being used in starting up the design of a new unit.  Sometimes the process data sent by the original equipment manufacturer isn't correct and has minor errors in it, or maybe it requires revision. If you are a highly skilled process simulator then with your magical hands-on process simulation tools you can save millions of dollars for your employer.
Is there a great professional achievement or high-profile accomplishment that you would like to tell us about?
One of my biggest accomplishments was to develop a crude unit simulation model of the refinery that behaves in exactly the same way as the actual plant.
What contributed to your decision to become professionally registered?
Having seen many engineers with the post-nominal CEng on LinkedIn, I did some research and found out about the benefits and recognition that come with professional registration. I realised that it is worth having, both for career development and for employment opportunities.
In what ways has registration benefitted your career?
Although CEng registration is not common in Pakistan, I received a very good response from the young professionals asking about how to do it. I am looking forward to enjoying the benefits of registration in near future.
How does your employer benefit from your professional registration?
I am the first CEng in the organisation; I have developed a path for other engineers to follow and it will be very beneficial for the organisation to have more professionally recognised engineers. My employer has been able to greatly reduce its use of third-party technical consultants, which means saving money.
Is there any advice you would pass on to someone considering professional registration?
Registration is evidence of your competence and will help progress your career. I would advise building your confidence and technical skills as your career progresses. As time passes, every new day will be a challenge for you. You just need to demonstrate your commitment and log your achievements, which will help you during your professional registration application.
Where do you see yourself in your career in five years' time or what are your future ambitions?
I will never stop achieving my learning goals and would like to see myself leading a team of process engineers in any organisation, with an objective of optimising the process and maximising profit.
Do you participate in any other career-related activities, such as mentoring, volunteering or membership of other engineering groups?
I started volunteering as a university guest speaker for the American Institute of Chemical Engineers (AIChE). My first session was at Dawood University of Engineering & Technology and covered the highlights on industry 4.0 digitization. I am also supervising the chemical engineering projects of final year students as an external advisor and I have been invited by engineering universities to judge chemical engineering final year projects. I have also volunteered to be a mentor at the Institute of Chemical Engineers (IChemE). I became a technical writer for Engineering Practice, the magazine of the International Association of Certified Practicing Engineers' (IACPE).
Outside work, is there any activity you enjoy doing in your spare time that relates to engineering?
I go to the gym for physical fitness, enjoy electronic gaming, reading novels and watching Netflix. Some of the Netflix original series cover engineering work, and they are really worth watching.