ICE breaks Guinness World Record with longest LEGO bridge
Published: 19/10/2016
A new exhibition has been launched with the construction of a record-breaking 31m suspension bridge made entirely out of LEGO. The exhibition, entitled Bridge Engineering, is at the home of the Institution of Civil Engineers (ICE), at One Great George Street in Westminster, and will run until spring 2017.
The bridge stands over three metres tall, weighs three-quarters of a ton and is made up of over 200,000 individual plastic bricks that you would find in a child's LEGO toy box.
Claire Gott MBE of global consultancy WSP | Parsons Brinckerhoff, whose bridge engineers oversaw the construction of the LEGO bridge, said: "Bridges are normally built out of things like steel and concrete – engineers know nearly everything there is about those types of materials, and can predict their physical behaviours. As a construction material, we didn't know much about the material properties of LEGO, so it was really exciting to see actual bridge engineers finding solutions to ensure this vast model suspension bridge remained upright."
In constructing the bridge, ICE broke the Guinness World Record for the longest single bridge span created out of LEGO bricks, unaided by glue or structural supports. The previous record was a single span of 14 metres. ICE achieved a new record with a single span of 16.46 metres. The two connected side spans either end of the main give the bridge a total span of 31 metres.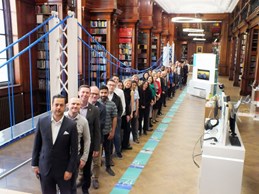 Dr Robin Sham, Global Long Span and Specialty Bridges Director at AECOM, designed the bridge installation and added: "Bridges connect people and places, both physically and emotionally. Using familiar LEGO bricks to demystify and showcase the extraordinary feats of engineers, I hope the next generation will be inspired to consider engineering as a career."
The Bridge Engineering exhibition explains how bridges have transformed lives and gives an insight into the creative minds of the civil engineers who designed and delivered them. It features past great structures such as Thomas Telford's Menai Strait suspension bridge and modern masterpieces including the 50 year old Severn Bridge. An interactive zone allows visitors and children to become civil engineers for the day by constructing their own bridges.
This exhibition is the start of a five-year programme of infrastructure-focussed exhibitions in ICE's new industry-backed gallery in the Grade II listed library. The interactive, public space has been christened the "Infrastructure Learning Hub". The programme aims to wrap science and engineering together in a fun, informative way and to inspire the next generation of Brunels.
ICE President Sir John Armitt said: "We all share our infrastructure equally so it is vital that we the planners, designers, builders and operators demonstrate its invaluable contribution to civic life."
Picture caption: ICE staff line up along the LEGO bridge