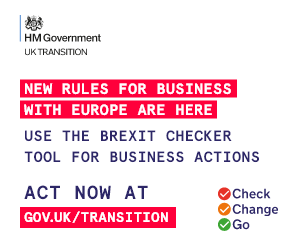 The Transition Period ended on Thursday 31 December and the United Kingdom of Great Britain and Northern Ireland (UK) is no longer part of the European Union (EU) Customs Union and Single Market. New rules from Friday 1 January 2021 require immediate action.
Agreements reached between the UK and the EU include a Trade and Cooperation Agreement, an Agreement on Nuclear Cooperation and an Agreement on Security Procedures for Exchanging and Protecting Classified Information. These agreements are available online and the UK Government has also produced a summary of the UK-EU Trade and Cooperation Agreement.
Mutual recognition of professional qualifications
The Engineering Council has been working to understand and establish the potential consequences of Brexit on the recognition of professional registration in the EU. We published a press release in July setting out our understanding of the situation. 
The previous framework for recognition of professional qualifications, established under the Mutual Recognition of Professional Qualifications Directive (2005/36/EC, as amended by 2013/55/EU), no longer applies to the UK.
The Government has provided detailed guidance for regulatory bodies. 
Inbound professionals
The relevant legislation that governs the recognition in the UK of EEA/Swiss professional qualifications from 1 January 2021 is the Recognition of Professional Qualifications Amendment (EU Exit) Regulations (2019), which amends the EU-derived domestic legislation that relates to MRPQ - EEA (2015) and Switzerland (2007). There is a useful Explanatory Memorandum available, produced by the Department for Business, Energy and Industrial Strategy (BEIS). 
The purpose of this legislation is to ensure that a system of recognition of professional qualifications continues and that individuals seeking recognition in the UK with EEA or Swiss qualifications after 1 January 2021 will have a means to seek recognition. This new legislation means that UK competent authorities must provide a route to recognition for holders of EEA/Swiss qualifications who meet the requirements of the profession in the UK.
Outbound professionals
The Trade and Cooperation Agreement between the UK and the EU sets out a framework for future mutual recognition agreements to be negotiated between the UK and all EU Member States. 
However, as no agreements have yet been implemented, the recognition of outbound UK professionals reverts to individual EEA/Swiss Member State rules from 1 January 2021. Information about the conditions for regulation in each EU Member state can be found in the EU Single Market Regulated Professions Database. Individuals should contact the relevant EU regulator for more information in the first instance; your professional engineering institution (PEI) may also be able to provide advice.
Existing recognition decisions
Previous recognition decisions concerning UK professionals, that were made when the UK was a member of the EU, will be unaffected. For applications for recognition that are in progress but have not been concluded by 1 January 2021, EU regulators will take into consideration that the application was made when the UK was a member of the EU.
Membership of international engineering organisations
Engineering Council membership of the European Federation of National Engineering Associations (FEANI), the European Network for the Accreditation of Engineering Education (ENAEE) and the International Engineering Alliance (IEA) will continue.
In September 2020, BEIS opened a consultation on the regulation of professional qualifications and regulation of the professions, to which the Engineering Council has responded. This is a broad look at the way that UK professions recognise professional qualifications gained overseas, with the aim of introducing a single system for overseas qualifications in the future.
More detailed information for licensed PEIs is available on our Partner Portal, including new 'Revised Technical Guidance for Regulatory Bodies'. 
Businesses
BEIS and its Business Intelligence and Readiness Directorate have asked that information be shared with individuals and organisations regarding the end of the Transition Period.
In March 2021, the Govenrment produced a short explainer document, 'Travelling to Europe for Work?' to help businesses understand the new rules that are in place. This includes information on entry requirements, luggage, earnings, qualifications, and insurance pertaining to business travel.
As of 1 January 2021 there are new trade rules in force. These changes impact many areas from import tariffs and custom declarations, through to immigration rules and travelling for business.

Find out what changes affect you and your business. You should:
1. Visit GOV.UK/transition to take a short survey and receive a personalised list of actions for you and your business.
2. Watch a webinar to learn more about how to ensure your business is ready for 1 January 2021.
3. Read the online guidance on exporting goods to the EU and importing goods from the EU from 1 January 2021.
4. Read the online guidance on moving goods into, out of, or through Northern Ireland from 1 January 2021.
5. Read the online guidance about importing goods from and exporting goods to countries outside of the EU.
6. Use the government's tariff look-up tool to find the tariff information you need, including commodity codes, duty and VAT rates.
7. Check the government's online tool on how to export goods out of the UK.
8. To export dual-use controlled items from the UK you must have a licence issued by the UK, except if you are exporting from Northern Ireland to the EU or Channel Islands. Find out if your items need a licence.
9. Check you're ready to comply with data sharing and protection rules.
10. Sign up to email alerts to stay up to date with any further changes.
If you have any questions about the end of the Brexit transition period and you can't find answers at GOV.UK/transition, fill out the enquiry form and an expert will point you in the right direction.
Office of Product Safety and Standards (OPSS)
OPSS has made the preparations necessary for the effective functioning of the product safety and metrology system at the end of the Transition Period.
To help ensure business understand what is expected of them, including on issues such as the use of the UKCA marking, we have produced a range of guidance and advice, all of which is available online.
This now includes a 'What's Changed?' summary guide to key changes regarding the specific product safety and metrology legislation amended by The Product Safety and Metrology etc. (Amendment etc.) (EU Exit) Regulations 2019. OPSS guidance provides a clear indication of what rules and regulations you will be required to comply with now that the Transition Period has come to an end.
To be notified when new material is published on the OPSS pages of GOV.UK, you can sign up for OPSS email alerts (half way down, under 'Latest from OPSS', there is a 'get email alerts' button to click on).
Last updated: 11 March 2020
Print this page