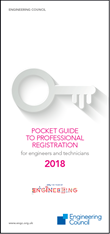 Click here to download your complimentary copy of the 2018 Pocket Guide to Professional Registration for engineers and technicians. We expect to publish the new 2019 edition shortly and hard copies can now be ordered from marketing@engc.org.uk
This pocket guide has been developed for use by all those working within the professional engineering community. It aims to provide key information about registration with the Engineering Council and about the many organisations working within this community.
The Engineering Council will endeavour to keep this ebook up to date as changes are notified to the organisation, but cannot be held responsible for incorrect data. Therefore it is advisable to check the primary source of information before acting upon any of the information provided.
Should you come across incorrect information contained within this guide, please contact marketing@engc.org.uk with an update.
Print this page