Engineering can take you anywhere in the world, in any sector. An engineer or technician's career could take almost any path. Throughout this journey, professional registration is a framework that can help guide your study, training and professional development – and demonstrate the standard you've achieved.
The Guide to Professional Registration is updated annually and can help everyone from school leavers, careers advisors and STEM ambassadors, through to employers and HR professionals, to navigate the organisations and resources available to support and develop engineering talent.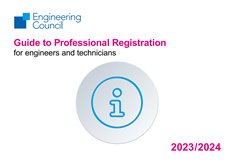 Professional registration is an internationally recognised standard that demonstrates engineering competence, gained through knowledge and on-the-job experience, to colleagues, employers and clients. A person can begin working towards professional registration at any time, and in any sector or discipline. Whether you're trying to choose the right apprenticeship or university course, applying for a promotion or a new job, or taking on your next big project: professional registration can support your career goals, demonstrating your competence and commitment to ethics and continual improvement.
There are four registration titles:
Your first step to professional registration is joining a Professional Engineering Institution licensed by the Engineering Council, or a Professional Affiliate. For students, membership is low cost or even free. There are over 40 of these engineering bodies, each with their own specialisms, reflecting the breadth of the 18% of the UK workforce working in engineering jobs.
To help guide you through the process, and pick the professional body that's right for you, the Engineering Council produces the Guide to Professional Registration, which covers:
how the different engineering organisations work together
what professional registration is

information about each professional registration title
benefits for registrants
benefits for employers
benefits for society

how to become professionally registered
profiles of all licensed professional engineering institutions and professional affiliates, including:

their specialisms and missions
what professional titles they offer
contact details
Download a free copy of the 2023/2024 Guide to Professional Registration
Please note:
The Engineering Council will do our best to keep this publication up to date as we are made aware of changes, but we cannot be held responsible for incorrect data. It is always advisable to check the primary source of information before acting upon it.
Print this page