Registrants recognised among Top 50 Women in Engineering
Published: 13/07/2023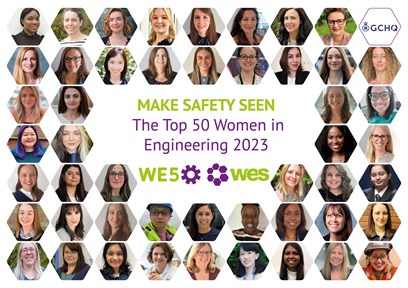 The Engineering Council would like to congratulate the registrants among the winners of the The Women's Engineering Society (WES) annual Top 50 Women in Engineering awards (WE50) announced on International Women in Engineering Day (INWED).
This year's theme was Safety and Security, highlighting the amazing women who are trailblazers in their fields of engineering.
By becoming professionally registered, these engineers have demonstrated their competence and commitment against an internationally recognised standard. This includes a personal commitment to professional standards, and ethical practice, recognising obligations to society, the profession, and the environment.
Congratulations to all those included on the Top 50 Women in Engineering list, including the following registrants:
Sholeh Behzadpour-Shaw BEng(Hons) MSc CEng MIET Prince2 – Senior Engineer Industrial Cyber, Heathrow Airport Ltd
Sue Caccavone BEng (Hons) MSc CEng MICE – Operations Manager – Asset Management, Binnies (UK) Ltd
Patrizia Carpentieri BEng(Hons) MSc CEng MICE, APM(PMQ) – Principal Blast Engineer, Arup
Jennifer Edwards MPhys (Hons) CEng MRAeS – Senior Systems Engineer, UK Space Agency
Laura Hoang BEng CEng MRAeS – Senior Human Factors Engineering Consultant, Environmental Resources Management Ltd
Lauren Jenkins BEng (Hons) MSc CEng MIMechE – Engineering Capacity Lead, Defence Equipment and Support
Laura Joryeff CEng MIChemE – Principal (Engineering Safety) Consultant, Corporate Risk Associates
Susan Khan CEng MIMechE – Head of Hardware Engineering, Thales Ground Transportation Systems
Holli Kimble MEng MSc CEng MIMechE – Chief Engineer, Defence Equipment and Support
Dr Eluned Lewis BSc MSc PhD CEng FIMMM – Team Leader Survivability, QinetiQ Defence and Security
Jennifer Maher CEng FIMechE – Principal Mechanical Engineer, Sellafield Ltd
Elena Martin Fernandes MEng (hons) CEng MICE – Principal Highways Engineer, Waterman Aspen
Titillate Oliyide CEng MIET – Senior Process Safety Engineer, Supercritical Solutions
Claire Price CEng MICE – Associate Director, WSP UK
Nikita Shetti interim registrant – Payload System Engineer, Airbus Defence and Space 
Professor Nicola Symonds CEng MRAeS – Director, nC2 Engineering Consultancy, University of Southampton
Roshni Wijesekera CEng MIMechE – Senior Fire Engineer, The Fire Surgery Limited
Catherine Wood CEng FIMechE – Maintain Design Integrity Group Lead, EDF Energy
You can see the full Top 50 Women in Engineering, Safety and Security list on the WES website.
For press enquiries:
Helen Potts, Engineering Council – hpotts@engc.org.uk, 020 3206 0568
The Engineering Council holds the national Register of Engineering Technicians (EngTech), Incorporated Engineers (IEng), Chartered Engineers (CEng) and Information and Communication Technology Technicians (ICTTech). It also sets and maintains the internationally recognised standards of competence and ethics that govern the award and retention of these titles. By this means it is able to ensure that employers, government and wider society, both at home and overseas, can have confidence in the skills and commitment of registrants. For more information visit: www.engc.org.uk