Registrants among 73 new Fellows elected by the Royal Academy of Engineering
Published: 28/09/2023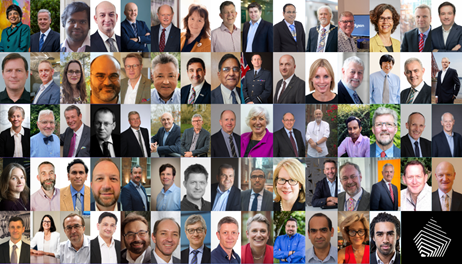 The Engineering Council is delighted to share the news that more than half of new Fellows elected are registrants and we would like to congratulate them on this significant achievement.
At its AGM on 19 September 2023 the Royal Academy of Engineering elected 73 leading figures in the field of engineering and technology to its Fellowship. The group comprises 60 Fellows, eight International Fellows and five Honorary Fellows, each of whom has made exceptional contributions to their own sector, pioneering new innovations, leading progress in business or academia, providing high level advice to government, or promoting wider understanding of engineering and technology.
The new Fellows will be formally admitted to the Academy at a special ceremony in London on 28 November, when each Fellow will sign the roll book. In joining the Fellowship, they will lend their unique capabilities to achieving the Academy's overarching strategic goal to harness the power of engineering to create a sustainable society and an inclusive economy for all.
Professor Sir Jim McDonald FREng FRSE, President of the Royal Academy of Engineering, said: "Engineering is everywhere, but nowhere the same, and our new Fellows represent the great breadth and diversity of engineers who are striving to address some of the world's most complex challenges – benefiting society and the economy in the process. From next generation power networks and water systems to quantum computing and artificial intelligence, our new Fellows are shaping the future.
"We live in an era of rapid change across our communities, our country, and of course our planet. Today we welcome to our Fellowship an inspiring group of people who are harnessing their creativity, courage and commitment to drive positive change in the world around us and we look forward to their contribution to our work."
CEO of the Engineering Council, Paul Bailey, said: "I offer my congratulations to all those elected as Fellows of the Royal Academy of Engineering in recognition of their individual excellence and professional standing in engineering. I am particularly pleased to note the high number of professionally registered engineers elected whose exceptional contributions and commitment to ethics and continuing professional development remains at the heart of so many important societal issues.
Full profiles of 2023 new Fellows are available on the RAEng website.
The list of the registrants elected as Fellows:
Fellows (FREng)
Jonathan Baggs CEng FIMechE FREng, Head of Nuclear, ARC
Desmond Balmforth CEng MIMechE FREng, Director of Engineering and Project Management, Leonardo
Professor Harish Bhaskaran CEng MIMechE FREng, Professor of Applied Nanomaterials, Department of Materials, University of Oxford
Professor Julian J Bommer CEng FICE FREng, Senior Research Investigator, Imperial College London
Professor Joseph (Joby) Boxall CEng MCIWEM C.WEM FREng, Professor of Water Infrastructure Engineering, Department of Civil and Structural Engineering, University of Sheffield
Professor Ruth Cameron CEng FIMMM CPhys FInstP FREng, Head (Joint), Department of Materials Science, University of Cambridge
Professor Michael Clinch CEng FIMMM FREng, Senior Consultant and Materials Group Leader, Innoval Technology
Professor Richard Dawson CEng FICE FREng, Professor in Earth Systems Engineering and Director of Research and Innovation, School of Engineering, Newcastle University
Professor John Dear CEng FIMechE CPhys FInstP FREng, Professor in Mechanical Engineering, Imperial College London
Peter Dearman CEng FIET FPWI FIMechE FREng FPWI, Independent Consultant
Professor Robert Deaves CEng FIET MINCOSE FHEA FREng FLSW, Senior Principal Engineer, Dyson; Honorary Professor, University of Birmingham
Air Vice-Marshal Simon Ellard CEng FRAeS FREng, CB Director Combat Air, Defence Equipment and Support, UK Ministry of Defence
Professor Michael Fitzpatrick CEng CSci FIMMM FREng, Pro-Vice-Chancellor and Lloyd's Register Foundation Chair in Structural Integrity and Systems Performance, Coventry University
Dr Rosemary Francis CEng MIET FREng, Chief Scientist, High-Performance Computing, Altair
Ian Funnell CEng FIET FREng, Chair, National Nuclear Laboratory
Professor David Greenwood CEng FIMechE FREng, CEO, WMG High Value Manufacturing Catapult and Director for Industrial Engagement at WMG
Dr Simon Harrison CEng FIET FEI FRSA FREng, Group Head of Strategy, Mott MacDonald
Dr Caroline Hazlewood CEng FICE FREng, Group Manager, Flood and Water Management, HR Wallingford
Professor Graham Hutchings CEng FIChemE FREng, Regius Professor of Chemistry, Cardiff University
Professor Ahmed Kovacevic CEng FIMechE FRSA FREng, Howden/Royal Academy of Engineering Research Chair in Compressor Technology, City, University of London
Dr Joshua Macabuag CEng MICE FREng, Co-Founder and Chief Product Officer, Renew-Risk; Engineering Manager, Search and Rescue Assistance in Disasters (SARAID)
Professor Paul Needham CEng FIET FREng, Head of Engineering for Air and Space Products and Chief Engineer for Historic Aircraft, BAE Systems
Professor Bashar Nuseibeh CEng FIET FBCS FREng, Professor of Computing, The Open University; Chief Scientist, Lero – The Irish Software Research Centre
Professor Timothy O'Farrell CEng MIET FREng, Chair in Wireless Communication, Department of Electronic and Electrical Engineering, University of Sheffield
Professor Bikash Pal CEng FIET FREng, Professor of Power Systems, Department of Electrical and Electronic Engineering, Imperial College London
David Peattie CEng MIMMM HonFNucI FREng, Group CEO, Nuclear Decommissioning Authority
David Quarton CEng FIMechE FREng, Visiting Professor and Senior Teaching Associate, University of Bristol; Independent Engineering Consultant, Renewable Energy
David Riordan CEng MIMechE FREng, Senior Technical Fellow, Spirit AeroSystems
Dr Chris Robinson CEng FRAeS FREng, Director, PCA Engineers Limited
Professor Catriona Savage CEng FRINA CMarEng MIMarEST RCNC FREng, Chief Technical Officer, Silverstream Technologies
Professor Felix Schmid CEng FIMechE FIRSE FPWI EuRail-Ing FREng, Professor Emeritus of Railway Systems Engineering, University of Birmingham
Dr Jon-Paul Sherlock CEng FIChemE FREng, Executive Director, Manufacturing Technology Strategy, AstraZeneca
Professor Ashutosh Tiwari CEng FIMechE FIET FREng, Royal Academy of Engineering/Airbus Research Chair in Digital Manufacturing, University of Sheffield
Professor Iain Todd CEng FIMMM FREng, Professor of Metallurgy and Materials Processing, Department of Materials Science and Engineering, University of Sheffield
Professor Daryl Williams CEng CSci MIMMM FREng, Professor of Particle Science, Imperial College London
Professor Keith Worden CEng FIMechE CPhys FInstP CMath FIMA FREng, Professor of Mechanical Engineering, Department of Mechanical Engineering, University of Sheffield
Dr William Andrew (Andy) Wright CEng FIET FREng, Founder and Director, WAW Innovation
Christopher Young CEng MIMechE FREng, Group Chief Engineer, Rolls-Royce Group
International Fellows (FREng)
Dr Pavel Cheben CEng FInstP FREng​, Principal Research Officer, National Research Council, Canada
For press enquiries:   
Helen Potts, Engineering Council – hpotts@engc.org.uk, 020 3206 0568
The Engineering Council holds the national Register of Engineering Technicians (EngTech), Incorporated Engineers (IEng), Chartered Engineers (CEng) and Information and Communication Technology Technicians (ICTTech). It also sets and maintains the internationally recognised standards of competence and ethics that govern the award and retention of these titles. By this means it is able to ensure that employers, government and wider society, both at home and overseas, can have confidence in the skills and commitment of registrants. For more information visit: www.engc.org.uk