Registrants recognised among Top 50 Women in Engineering
Published: 28/06/2022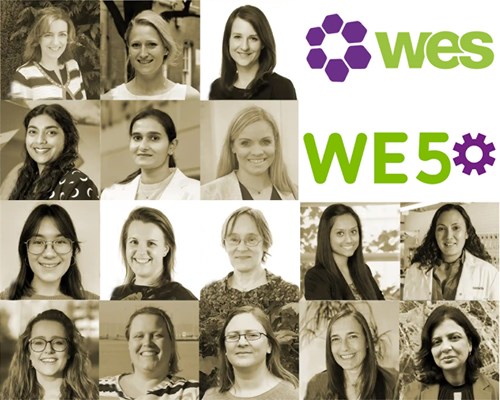 The Women's Engineering Society (WES) has announced the winners of its annual Top 50 Women in Engineering awards (WE50). We at the Engineering Council would like to congratulate the registrants among these inventors and innovators on their incredible achievements.

Now in its seventh year, the 2022 WE50 awards celebrates women who have created or improved a product or process that makes a difference. This year's awards were run in association with The Guardian newspaper and Ball Corporation. WE50 invited nominations for nominees who work to combat climate change, advocate for women in STEM, and have a drive to make a difference within the engineering industry.

This year nearly a third of all the women on the list (32%) are registered as either a Chartered Engineer (CEng) or Engineering Technician (EngTech). By becoming professionally registered, these engineers have demonstrated their competence and commitment against an internationally recognised standard. This includes a personal commitment to professional standards, recognising obligations to society, the profession, and the environment.

The number and standard of nominations were high, emphasising the exceptional achievements made by women in this field. The WE50 awards were judged by a panel of industry experts. Head Judge, Dr Bola Olabisi said:

''We were amazed by the quality and diversity of nominations this year. Each one demonstrating capabilities of inspiring other women with their life changing contributions. We were delighted with their sheer determination and tenacity as innovators".

This year more than ever, female engineers are applying themselves to sustainability and creating a built environment that is kinder to the natural world. Female engineers are working hard to combat global CO2 emissions by creating products that monitor, capture and reduce carbon emissions, as well as developing energy solutions to decarbonise entire countries.

Elizabeth Donnelly CEO of WES said:

'"Once again WES is delighted to celebrate the achievements of women engineers. It's a joy that so many innovative women are making a difference to our everyday lives and working to mitigate the impact that engineering has on the environment."

Congratulations to all those included on the Top 50 Women in Engineering list, including the following registrants:
Alice Kan CEng MIMechE – Pharmaceutical Director, Kan Do Ventures
Beth Dickens CEng MIMechE – Director, Quoceant Ltd
Divya Bhanderi CEng MICE – Senior Engineer, Arup
Eleanor Ball CEng AMICE MIStructE – Co-Founder and Director, Graphic Structures
Evelyn Cropper CEng FRAeS – Technical Manager Stirling Dynamics
Dr Jane Wright CEng MIChemE – Infrastructure Carbon Adviser, Department for Transport (DfT)
Jennifer Glover EngTech MIMechE – Graduate Acoustic Consultant, AECOM
Krystina Pearson-Rampeearee CEng MRAeS – Senior Flight Systems Engineer, BAE Systems
Lucie Killen CEng MICE – Structural Engineer, Price & Myers
Marisa Kurimbokus CEng MIMechE – Mechanical Engineering Team Leader, Aeristech
Mercedes Ascaso Til CEng MICE – Principal Engineer, DLT Engineering Ltd
Nausheen Mehboob Basha CEng MIMechE – Project Manager and Researcher, Imperial College London
Philippa Davies CEng MRAeS – Engineering Director, Reaction Engines
Priti Parikh CEng FICE – Head of UCL's Engineering for International Development Centre
Rachel Pether CEng FICE – Director of Water Utilities, Binnies
Rowena Innocent CEng FInstP – Senior Vice President of Engineering at Ultraleap
See the full Top 50 Women in Engineering list on the WES website, or read the profiles on The Guardian's website. 



For press enquiries:   

Kate Webster, Engineering Council – kwebster@eng.org.uk, 020 3206 0567


The Engineering Council is the UK regulator of the engineering profession. This is our 40th year of setting and maintaining standards, to ensure that society has confidence and trust in the engineering profession – both in the UK and overseas. The Engineering Council holds the national Register of over 229,000 professionally registered engineers and technicians (registrants), who hold the following titles:
Engineering Technician (EngTech)
Incorporated Engineer (IEng)
Chartered Engineer (CEng) and Information
Information Communication Technology Technician (ICTTech)
The Engineering Council also sets and maintains the internationally recognised standards of competence and ethics, governing the award and retention of these professional titles. For more information visit: www.engc.org.uk