Registrants among 72 new Fellows welcomed by the Royal Academy of Engineering  
Published: 27/09/2022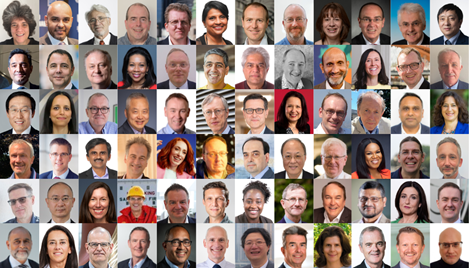 The Engineering Council is pleased to see that half of new Fellows elected are registrants and would like to congratulate them on this significant achievement.
At its AGM on 20 September 2022 the Royal Academy of Engineering (RAEng) elected 72 leading figures in the field of engineering and technology to its Fellowship. The group consists of 60 Fellows, seven International Fellows and five Honorary Fellows, each of whom has made exceptional contributions to their own sector, pioneering new innovations, leading progress in business or academia, providing high level advice to government, or promoting wider understanding of engineering and technology.
This year's new Fellows reflect the Academy's ongoing Fellowship Fit for the Future initiative announced in July 2020, to drive more nominations of outstanding engineers from underrepresented groups ahead of its 50th anniversary in 2026. This initiative sees the Academy striving for increased representation from women, disabled and LGBTQ+ engineers, those from minority ethnic backgrounds, non-traditional education pathways and emerging industries, and those who have achieved excellence at an earlier career stage than normal.
The new Fellows will be formally admitted to the Academy at a special ceremony in London on 8 November, when each Fellow will sign the roll book. In joining the Fellowship, they will add their unique capabilities to the Academy's mission to harness the power of engineering to create a sustainable society and an inclusive economy for all.
Sir Jim McDonald FREng FRSE, President of the Royal Academy of Engineering, says:
"I am delighted to welcome such an array of enormously talented people to the Fellowship of the Royal Academy of Engineering. From industry and enterprise to education and government – both national and international – these are some of our most pioneering and distinguished engineers and technologists.
"In an uncertain world, one thing is certain – engineering skills, vision and leadership will play a crucial part in addressing the escalating domestic and global challenges that we face today. The combined connectivity, professionalism, experience and wisdom of the new Fellows who join us today will greatly enrich the expertise and support we can provide to the government and to society in general."
Full profiles of 2022 new Fellows are available on the RAEng website.
The complete list of Fellows elected in 2022 is as follows:
Fellows (FREng)
Professor Daniel Alexander BA MSc PhD MIEEE ISMRM MICCAI, Professor of Imaging Science, Department of Computer Science, UCL; Co-Founder of Queen Square Analytics
Adrian Baguley BSc FRAeS MIMechE ACGI, Deputy Chief Executive, Defence Equipment & Support, Ministry of Defence
Dawn Bonfield MBE BSc HonDEng CEng FIMMM FICE HonFIStructE FWES, Director, Towards Vision; Royal Society Entrepreneur in Residence, King's College London; Royal Academy of Engineering Visiting Professor of Inclusive Engineering, Aston University
Simon Bowen BSc CEng FIMechE, Nuclear Industry Advisor to the Prime Minister and the Secretary of State for BEIS
Professor Ian Chapman, MSc PhD FInstP, CEO, UK Atomic Energy Authority
Professor Manish Chhowalla BS PhD FInstP FRSC FMRS, Goldsmiths' Professor of Materials Science, University of Cambridge
Professor Peter Vivian Coveney BA MA DPhil CPhys CChem FInstP FRSC, Professor of Physical Chemistry, UCL
Stuart Crooks CBE MBA CEng FIET MIEEE, Managing Director, Hinkley Point C
Kevin Daffey BEng CEng CMarEng FIMarEST MIET, Director of Governmental Application Engineering and Automation, Rolls-Royce Solutions
Professor Steve Dixon BA PhD CEng FIMMM MInstNDT, Professor and Director of the Centre for Industrial Ultrasonics, University of Warwick
Professor Hongbiao Dong BEng MEng DPhil CEng FIMMM, Professor of Materials Engineering and Royal Academy of Engineering Research Chair, University of Leicester
Professor Suzanne Farid BEng PhD CEng FIChemE, Professor of Bioprocess Systems Engineering, UCL
Stephen Featherstone BEng CEng FPWI FIGEM FICE FRICS, Managing Director, Sachle Consultants Ltd; Chair, Fish Plate Joint Alliance; Non-Executive Director, CC Infrastructure Services
Professor Sebastian Geiger FRSE MSc PhD FEI AGU SPE EAGE, Professor for Sustainable Geoenergy, Delft University of Technology
Kuldeep Gharatya BEng MSc CEng FIMechE FIET, Head of Engineering, Major Programmes Directorate, TfL
Professor Mark Girolami FRSE BSc PhD FIET, Sir Kirby Laing Professor of Civil Engineering, University of Cambridge; Chief Scientist, Alan Turing Institute
Professor Susan Gourvenec BEng PhD FICE FIEAust, Royal Academy of Engineering Chair in Emerging Technology, Intelligent and Resilient Ocean Engineering, University of Southampton
Antony Green BEng CEng FIGEM CWEM FCIWEM MIWater, Hydrogen Director, National Grid
Professor Sai Gu BEng MSc PhD CEng FIMechE, Deputy Pro-Vice-Chancellor (China), University of Warwick
Michael Haigh BSc CEng FICE MCIWEM, Chair of the World Economic Forum Infrastructure Industries Governors and the former Executive Chair of Mott MacDonald
Professor Christopher Hancock FLSW BSc MSc PhD CEng FIET CPhys FInstP SMIEEE, CTO and Founder, Creo Medical Group plc; Chair in Medical Microwave Systems Research, Bangor University
Dr Grahaeme Henderson OBE BSc PhD DSc CEng MICE, Chair, 'Together in Safety' Global Shipping Industry Foundation
Graham Henley BSc CEng FIET FAPM RPP ChPP, Senior Vice President Engineering and Projects Capability, Shell
Professor Nicholas Higham FRS BSc MSc PhD CEng FIET CMath FIMA, Richardson Professor of Applied Maths and Royal Society Research Professor, University of Manchester
Professor David Hills MA PhD DSc CEng FIMechE, Professor of Engineering Science, University of Oxford
Brian Holliday BSc MBA CEng FIET, Managing Director, Siemens Digital Industries UK
David Holmes OBE HNCs FRAeS FIET FIPlantE FWeldI FSOE FIKE, Advanced Project and Technologies and Manufacturing Director, BAE Systems-Air
Professor Brian Hoyle BSc MPhil PhD CEng FIET SMIEEE, Professor (part-time), University of Leeds
Professor Bassam Izzuddin BEng MSc PhD CEng FIStructE MASCE, Professor of Computational Structural Mechanics, Imperial College London
Koray Kavukcuoglu BSc MSc PhD, VP of Research & Technology, DeepMind
Professor Kin K Leung BSc MSc PhD FIET FIEEE MAE MACM, Tanaka Chair in Internet Technology, Imperial College London.
Luke Logan BEng CEng FIMechE FRAeS, Director, Luke Logan Consulting Ltd
Wolf Mangelsdorf CEng MIStructE, Director, Global Head of Design, Technology and Innovation, Buro Happold
Professor Epaminondas Mastorakos BEng MS PhD CEng MInstP FIMechE AFAIAA MASME, Hopkinson/ICI Professorship of Applied Thermodynamics, University of Cambridge
Professor David Mba BEng PhD CEng FBINDT, Deputy Vice-Chancellor (Research, Knowledge Exchange and Enterprise), UAL
Professor Derek McAuley BA DipCS PhD FBCS, Professor of Digital Economy, University of Nottingham
Chris McDonald BA MEng MBA FIChemE FIMMM, Chief Executive Officer, Materials Processing Institute
Professor Iqbal Mujtaba BSc MSc PhD DIC CEng FIChemE, Professor of Computational Process Engineering, Associate Dean for Learning, Teaching & Quality, University of Bradford
Professor Arokia Nathan BSc MSc PhD DSc FIET FIEEE FSID, Co-founder and Director, Cambridge Touch Technologies
Professor Conchúr Ó Brádaigh, BE MEngSc PhD FIMechE FIMMM,  Head of School and Chair of Materials Engineering, University of Edinburgh
Christine Ourmieres-Widener MA FRAeS, Chief Executive Officer, TAP Air Portugal
Dr Yoge Patel BSc, Chief Executive Officer and Owner, Blue Bear Group
Professor Adrian Podoleanu MEng PhD PGCHE FInstP FOptica FSPIE SMIEEE, Head of the Applied Optics Group, Professor of Biomedical Optics, University of Kent
Professor Honor Powrie BSc PhD CPhys FInstP, Senior Director, GE Aviation
Professor Elena Rodriguez-Falcon MEng DEng MBA MEd PGDiP FIET FCMI PFHEA FWES, Deputy Vice Chancellor University of Wales Trinity Saint David
Robert Savidge CEng FIMechE FRAeS, Consultant
Moazzam Shamsi BEng MSc CEng MInstMC, Global Director, Solutions Architecture, Emerson
Professor Qiang Shen FLSW BEng MSc PhD DSc CEng FBCS, Professor of Computer Science and PVC, Aberystwyth University
Gaven Smith CEng FIET MAPM, Director General for Technology, GCHQ
Dr Uwe Stein Dipl Ing PhD, Director and Chief Engineer, Flowcopter Ltd; Knocktop Ltd
Professor Nikola Stosic Dipl Ing MSc DSc CEng FIMechE, Chair in Positive Displacement Compressor Technology, City, University of London
Professor Danail Stoyanov BEng PhD FIET SMIEEE MMICCAI, Professor of Robot Vision, UCL
Judith Sykes MEng MPhil CEng FICE FRSA, Senior Director, Expedition Engineering
Professor James Roy Taylor FRS BSc PhD FInstP FOSA MIEEE MSPIE, Professor of Ultrafast Physics and Technology, Imperial College London
Professor Niki Trigoni BSc PhD, Professor and Head of the Cyber Physical Systems, University of Oxford
Professor Sergei Turitsyn MSc BSc PhD, Professor and Director of the Institute of Photonic Technologies, Aston University
Alexander Van Someren FIET, UK Chief Scientific Advisor National Security; Honorary Professor, University of Manchester
Henning von Spreckelsen MEng MBA CEng MIET, Director, Plastecowood Ltd
Chris Waldon CEng FIMechE FRSA, Chief Engineer and Deputy Director, STEP (Spherical Tokamak for Energy Production)
Professor Roger Woods BSc PhD CEng FIET SMIEEE, Professor of Digital Systems, Queen's University Belfast
International Fellows (FREng)
Rebecca Enonchong BSc MSc, Founder and CEO, Appstech
Professor Andrea Goldsmith BS MS PhD HonDSc MIEEE NAE (USA) MAAAS, Arthur LeGrand Doty Professor of Electrical & Computer Engineering, Princeton University
Professor Chennupati Jagadish BSc MSc MPhil PhD AC FIET FIEEE FInstP NAE(USA) FAA FTSE FNA FTWAS FNA FNAE FASc FNASc FAPAS FEurASc FMRS FAPS FAAAS FECS FOSA FAVS FEMA FAPAM FAIP FSPIE HonMemMRSI, Distinguished Professor, Australian National University
Dr Kinam Kim (Korea) BS MS PhD FIET FNAEK (Korea) NAE (USA), Chairman of Samsung Advanced Institute of Technology, Samsung Electronics
Dr Mallikarjun Tatipamula PhD FCAE FIET, CTO, Ericsson Silicon Valley
Dr Grazia Vittadini FRAeS, Chief Technology and Strategy Officer of Rolls-Royce
Professor Guangwen Xu BEng Deng, President and Professor, Shenyang University of Chemical Technology
Honorary Fellows (HonFREng)
Dr Nike Folayan MBE, Chair and Co-Founder, Association for Black and Minority Ethnic Engineers UK (AFBE-UK); Technical Director, WSP
Professor Hannah Fry, Professor in the Mathematics of Cities, UCL; author and presenter
Indro Mukerjee, Chief Executive Officer, Innovate UK
Damilola Ogunbiyi, CEO and Special Representative of the UN Secretary-General for Sustainable Energy for All and Co-Chair of UN-Energy
Sir Patrick Vallance Kt KCB FRS FMedSci FRCP, Government Chief Scientific Adviser
For press enquiries:
Kate Webster, Engineering Council – kwebster@engc.org.uk, 020 3206 0567
Jane Sutton, Royal Academy of Engineering - jane.sutton@raeng.org.uk, 020 776 0636
Notes for editors:
The Engineering Council was incorporated by Royal Charter in November 1981 to regulate the engineering profession in the UK. This is our 40th year of setting and maintaining standards, to ensure that society continues to have confidence and trust in the engineering profession.
The Engineering Council holds the national Register of Engineering Technicians (EngTech), Incorporated Engineers (IEng), Chartered Engineers (CEng) and Information and Communication Technology Technicians (ICTTech). It also sets and maintains the internationally recognised standards of competence and ethics that govern the award and retention of these titles. By this means it is able to ensure that employers, government and wider society, both at home and overseas, can have confidence in the skills and commitment of registrants. For more information visit: www.engc.org.uk
1. More information on Fellowship of the Academy, as well as the nomination and assessment process, is available in the Fellowship Prospectus. The Academy now has nearly 1700 Fellows in total, including International and Honorary Fellows.
2. The Royal Academy of Engineering is harnessing the power of engineering to build a sustainable society and an inclusive economy that works for everyone.
In collaboration with our Fellows and partners, we're growing talent and developing skills for the future, driving innovation and building global partnerships, and influencing policy and engaging the public.
Together we're working to tackle the greatest challenges of our age.