Registrants recognised at IET Achievement Awards
Published: 25/10/2022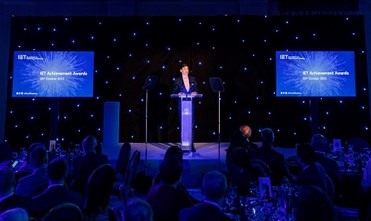 The Engineering Council would like to congratulate registrants recognised in The Institution of Engineering and Technology (IET) 2022 Achievement Awards:
The Achievement Awards are part of the IET's Awards and Scholarships programme and a full list of winners in all categories is available on the IET website. The Awards honoured 11 of the world's top engineering and technology talent with medals and trophies for services to the industry, celebrating excellence and research in the sector and encouraging the next generation of engineers and technicians. All IET awards seek to inspire and reward engineering excellence, including apprentices at the start of their careers, through to reputable, established professional engineers and technicians.
One of this year's most significant awards, the Faraday Medal, goes to Dr Chad A. Mirkin for his contributions to nanotechnology and nanoengineering, including the invention and development of spherical nucleic acids (SNAs) – technology which is being used in the early detection of diseases, identification of new genetic markers and has led to a new therapeutic pipeline for gene regulation and immunotherapy.
Dr Mirkin is the Director of the International Institute for Nanotechnology and the George B. Rathmann Professor of Chemistry. He is also a Professor of Chemical and Biological Engineering, Biomedical Engineering, Materials Science & Engineering, and Medicine at Northwestern University, Illinois, USA. He is a chemist and nanoscience expert and known for his contributions to additive manufacturing, supramolecular chemistry, and nanoparticle synthesis.  He has authored more than 840 papers and 1,200 patents worldwide – with more than 400 issued – and founded nine companies. Mirkin has been recognised with over 230 awards.
Another top accolade this year goes to Dr Santokh Badesha. He received the Mountbatten Medal for developing materials enabling the wide-ranging use of laser printing and the creation of colour laser printing. Dr Badesha's inventions appear in nearly every production product released by Xerox in the past 25+ years and he is internationally recognised for the invention of technologies that have supported the era of digital printing on demand, transforming the communication and productivity of hundreds of millions of people globally.
These medallists join nine other winners, who were nominated by their peers as leading engineers and technicians in their field.
Bob Cryan, IET President, said: "We are honoured to present these talented individuals with our Achievement Awards. They have each excelled in their professions and have made a vast contribution as pioneers of important areas in the engineering and technology industries. Our medal winners today are innovators who have all made a difference to the world in which we live. The apprentices and technicians are all amazing, already achieving great things in their careers and inspiring others around them. They should all be rightly proud of their achievements – they are incredible role models for the next generation."
The IET Achievement Medals exist to recognise individuals from all over the world who have made exceptional contributions to the advancement of engineering, technology and science in any sector. This can be through research and development in their respective technical field or through their leadership of an enterprise. For further details and the IET's full announcement, please visit the IET website.
Image credit: Suzi Ruffell, hosting the IET Achievement Awards; photography Alistair Veryard, courtesy of IET
For press enquiries:
Kate Webster, Engineering Council – kwebster@engc.org.uk, 020 3206 0567
The Engineering Council was incorporated by Royal Charter in November 1981 to regulate the engineering profession in the UK. This is our 40th year of setting and maintaining standards, to ensure that society continues to have confidence and trust in the engineering profession.
The Engineering Council holds the national Register of Engineering Technicians (EngTech), Incorporated Engineers (IEng), Chartered Engineers (CEng) and Information and Communication Technology Technicians (ICTTech). It also sets and maintains the internationally recognised standards of competence and ethics that govern the award and retention of these titles. By this means it is able to ensure that employers, government and wider society, both at home and overseas, can have confidence in the skills and commitment of registrants. For more information visit: www.engc.org.uk