Eleanor Earl wins WES 2021 Karen Burt Award for best new female Chartered Engineer
Published: 10/01/2022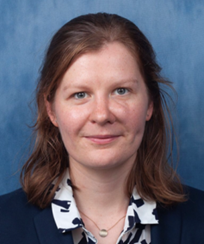 The Engineering Council would like to congratulate the 2021 winner of the prestigious Karen Burt Memorial Award for the best new female Chartered Engineer (CEng), Eleanor Earl CEng MICE, Civil Engineer at Arup.
Eleanor was nominated for the 23rd Karen Burt Award by the Institution of Civil Engineers (ICE), in acknowledgement of her achievements. The Award recognises the importance Chartered status has, the winner's own contributions to excellent practice and highlighting engineering to others.
Head Judge Dr Katherine Critchley said: "The judges were impressed with Eleanor's clear passion and drive for making engineering diverse and inclusive, particularly in her area of expertise around humanitarian water provision and development.
Eleanor's determination to make engineering accessible to all has been highlighted by her volunteer work with the Social Mobility Foundation and the Girls' Network for the past six years, and by launching the national STEM Ambassadors Network at Arup.
Eleanor's continued commitment to both her profession and to the promotion of how engineering makes a difference to lives all around the world make her a very worthy recipient of this award as well as an inspiration to young women entering the profession."
Eleanor Earl responded to the Award by saying:
"I am honoured to receive the Karen Burt Memorial Award and would like to congratulate all of the fantastic nominees. I would also like to thank everyone who has shown me kindness and support on my journey. There are too many people to name, but I hope that you all know who you are. You are my engineering heroes!"

Eleanor was selected as winner from a strong group of contenders, all nominated by their own Professional Engineering Institutions (PEIs). The nominees and PEIs included: Mivy James (BCS), Agnieszka Jezierska (CIHT), Vaishnavi Balachandran (CIWEM), Maha Khan (Energy Institute), Tola Oseni (IChemE), Laura Read (iED), Sahar Danesh (IET), Klementina Gerova (IFE), Dr Sin Sin Hsu (IMechE), Professor Sarah Cartmell (IOM3), and Stephanie Jones (RAS).
Eleanor was presented with the Karen Burt Award at the Women's Engineering Society (WES) Caroline Haslett Lecture and Awards ceremony, held virtually on the evening of 16 December 2021. The Caroline Haslett Lecture was delivered by Dame Jo Da Silva CEng MICE MIStructE FREng, Global Director of Sustainable Development at Arup.
Nominations are made by PEIs, who may nominate one newly chartered engineer per year. Please contact your PEI if you would like to be considered for the award. Nomination forms will be sent direct to the PEIs in early 2022. If you have any questions about the Karen Burt Memorial Award or the nomination process, please contact Karen.Burt.Award@wes.org.uk
For press enquiries:
Kate Webster, Engineering Council – kwebster@eng.org.uk, 020 3206 0567
The Engineering Council was incorporated by Royal Charter in November 1981 to regulate the engineering profession in the UK. This is our 40th year of setting and maintaining standards, to ensure that society continues to have confidence and trust in the engineering profession.
The Engineering Council holds the national Register of Engineering Technicians (EngTech), Incorporated Engineers (IEng), Chartered Engineers (CEng) and Information and Communication Technology Technicians (ICTTech). It also sets and maintains the internationally recognised standards of competence and ethics that govern the award and retention of these titles. By this means it is able to ensure that employers, government and wider society, both at home and overseas, can have confidence in the skills and commitment of registrants. For more information visit: www.engc.org.uk