Registrant wins WES prize at IET Young Woman Engineer of the Year Awards 2021
Published: 03/12/2021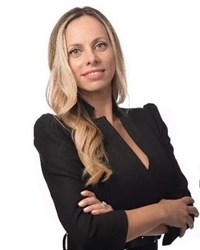 The Engineering Council would like to congratulate Eftychia Koursari IEng MICE on winning the Women's Engineering (WES) Prize at the 2021 Institution of Engineering and Technology (IET) Young Woman Engineer of the Year Awards. Presented at an awards ceremony on 2 December, hosted by Olympic medallist and TV presenter Samantha Quek, these prestigious engineering industry awards celebrate women working in modern engineering.
Eftychia is a Senior Civil Engineer for Amey Consulting, specialising in scour, the main impact of climate change on infrastructure, whilst also undertaking part-time PhD Research on scour at the University of Glasgow.
Effie is developing innovative scour monitoring and prediction tools and methods, protecting infrastructure, whilst also aiding in the response to the Climate Emergency.
She is part of Amey Consulting's Carbon and Climate Change Working Group, as well as the Women's Engineering Society's Climate Emergency Group and a member of CIRIA's steering group, producing the new engineering manual on scour.
Effie is an active STEM Ambassador and has been named one of the Top 50 Women in Engineering for 2020 and was also awarded the Women Leaders Association Rising Star in STEM.
The IET Young Women Engineer of the Year Awards aim to help change the perception that engineering is predominantly a career for men by banishing outdated engineering stereotypes of hard hats and dirty overalls.
Winner of the Young Woman Engineer of the Year was Dr Ciara McGrath (Lecturer in Aerospace Systems at the University of Manchester) and Dilani Selvanathan (Junior Software Engineer for Herotech8) won the Mary George Memorial Prize for Apprentices.

The other 2021 finalists are:
Nipuni Karunaratne CEng MRAeS
Lauren Jayes
Anna Will.
Congratulations to all the finalists, recognised for their outstanding engineering work. For more details on all six finalists, please visit the IET Young Woman Engineer Award website.
For press enquiries:
Kate Webster, Engineering Council – kwebster@eng.org.uk, 020 3206 0567
The Engineering Council was incorporated by Royal Charter in November 1981 to regulate the engineering profession in the UK. This is our 40th year of setting and maintaining standards, to ensure that society continues to have confidence and trust in the engineering profession.
The Engineering Council holds the national Register of Engineering Technicians (EngTech), Incorporated Engineers (IEng), Chartered Engineers (CEng) and Information and Communication Technology Technicians (ICTTech). It also sets and maintains the internationally recognised standards of competence and ethics that govern the award and retention of these titles. By this means it is able to ensure that employers, government and wider society, both at home and overseas, can have confidence in the skills and commitment of registrants. For more information visit: www.engc.org.uk