Registrant becomes Young Woman Engineer of the Year finalist
Published: 04/03/2021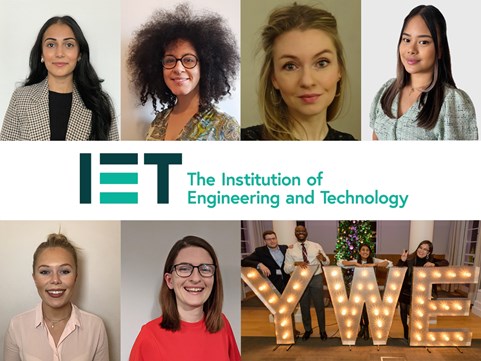 The Engineering Council would like to congratulate registrant Neera Kukadia CEng MIMechE and the other five finalists on being recognised in the Institution of Engineering and Technology (IET) Young Woman Engineer of the Year Awards.

These annual awards recognise the contributions of exceptional female engineers working in the UK.

Neera Kukadia CEng MIMechE is a Project Engineer at Transport for London. She works in the Major Projects Directorate, where she is currently managing works on the Elephant & Castle Station Capacity Upgrade Project. Neera has been a STEM ambassador for five years, working with girls' schools in underrepresented boroughs in East London, encouraging and inspiring young girls into the engineering industry. Since completing her MEng at Brighton University, Neera now volunteers in the university's BAME mentor programme.

The other finalists are:
Shrouk El-Attar, an Electronic Engineer at Elvie.
Dr Melanie Jimenez, a Royal Academy of Engineering Research Fellow at the James Watt School of Engineering, University of Glasgow
Denize Ivy Pilarta, an Apprentice Non-Destructive Examination Engineering Technician at BAE Systems Submarines.
Ella Podmore, a Materials Engineer for luxury British supercar maker McLaren Automotive.
Bethany Probert, a Junior Software Engineer at Altran UK, working in the High Integrity Software Centre.
Four awards will be presented at the livestreamed ceremony, on Thursday 4 March 2021:

The Young Woman Engineer of the Year (YWE) award
First launched in 1978, the YWE award was originally sponsored by the Caroline Haslett Memorial Trust, in memory of Dame Caroline Haslett, the first Secretary of the Women's Engineering Society (WES). These days the IET continues to support the Young Woman of the Year Award, in recognition of exceptional women in engineering.

The Mary George Memorial Prize for Apprentices
This prize is given to a young female apprentice who shows great promise and potential in the profession and is tipped to be one of tomorrow's leaders in engineering.  It is named in memory of Mary George CBE who joined the joined the Electrical Association for Women (EAW) in 1956 and served as its Director and Secretary.

The Women's Engineering Society Prize
The Women's Engineering Society (WES) is a professional, not-for-profit network of women engineers, scientists and technologists offering inspiration, support and professional development. The Women's Engineering Society Prize is awarded to a young female engineer who works to engage and inspire young people's involvement in Science, Technology, Engineering and Mathematics (STEM).

The Gender Diversity Ambassador Award
Now in its third year, this award was created to honour and recognise an individual who has worked hard to achieve gender equality within the engineering industry. This award aims to both celebrate a role model, and also to demonstrate innovation and good practice in addressing the gender gap in engineering.

The event will be held virtually, from 6-10pm BST. For more information and to register to attend please visit the IET website.



For press enquiries:   
Kate Webster, Engineering Council – kwebster@eng.org.uk, 020 3206 0567

The Engineering Council holds the national Register of Engineering Technicians (EngTech), Incorporated Engineers (IEng), Chartered Engineers (CEng) and Information and Communication Technology Technicians (ICTTech). It also sets and maintains the internationally recognised standards of competence and ethics that govern the award and retention of these titles. By this means it is able to ensure that employers, government and wider society, both at home and overseas, can have confidence in the skills and commitment of registrants. For more information visit: www.engc.org.uk