Engineering regulator publishes new industry-wide risk guidance
Published: 27/10/2021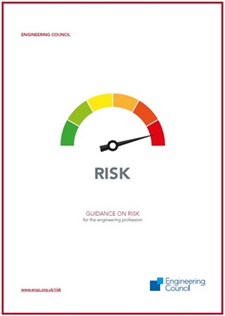 Risk is an inherent part of all engineering activities, so it is essential that all engineers and technicians are able to identify, assess, understand and appropriately manage risk. It is also crucial to be able to communicate about risk, both to other professionals and the public.
To support this, the Engineering Council, the regulatory body for the engineering profession in the UK, has issued updated Guidance on Risk. This guidance is suitable for engineering professionals at all career stages, and across all sectors and specialisms.
The Guidance on Risk describes the role of all those engaged in engineering in dealing with risk, and their responsibilities to society.
The Guidance is reviewed periodically and, following a wide-ranging consultation with the engineering community, this edition replaces and updates the previous Guidance. The revised Guidance on Risk sets out the key stages of managing risk and emphasises the need to exercise informed judgment and identify what is an acceptable level of risk – the risk appetite.
This Guidance sets out six principles to ensure all engineering professionals integrate understanding of the environment and sustainability of resources into all aspects of their work. The full Guidance on Risk leaflet, and a convenient wallet card of the six principles, can be downloaded free from: www.engc.org.uk/risk
Alasdair Coates CEng FICE MCIHT CMIOSH, CEO of the Engineering Council said:
"Engineers frequently work in safety-critical areas and have a crucial role to play in assessing and managing risk. This updated Guidance on Risk supports individual engineers and technicians by providing key principles that can be incorporated into their daily practice with engineering teams, inter-disciplinary teams and when communicating risks to the wider public. Professionally registered engineers and technicians – Chartered Engineers, Incorporated Engineers and Engineering Technicians – commit to maintaining and developing their knowledge throughout their careers."
The Engineering Council also produces guidance on Security, Sustainability, Risk, and Whistleblowing, in addition to the Statement of Ethical Principals, published jointly with the Royal Academy of Engineering (RAEng). This Guidance is reviewed regularly and can be found at: www.engc.org.uk/guidance
For press enquiries:   
Kate Webster, Engineering Council – kwebster@eng.org.uk, 020 3206 0567
The Engineering Council holds the national Register of Engineering Technicians (EngTech), Incorporated Engineers (IEng), Chartered Engineers (CEng) and Information and Communication Technology Technicians (ICTTech). It also sets and maintains the internationally recognised standards of competence and ethics that govern the award and retention of these titles. By this means it is able to ensure that employers, government and wider society, both at home and overseas, can have confidence in the skills and commitment of registrants. For more information visit: www.engc.org.uk