Engineering Council event highlights competence for a sustainable future
Published: 23/04/2021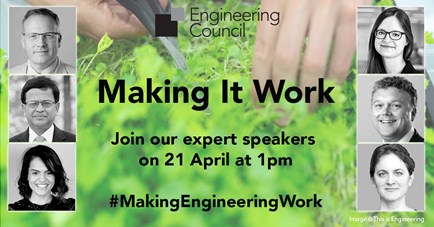 Expert webinar launched engineering standards & sustainability guidance

An international panel of experts highlighted the crucial role of engineers in building a more sustainable world at this online event on 21 April. Engineering profession regulator the Engineering Council set out the big picture of how professional standards and guidance can support practising engineers at all career levels, towards both professional expertise and global goals for a greener planet.

'Making It Work – Using professional standards and guidance to develop engineering competence for a sustainable world' was a public launch of the Engineering Council's revised professional Standards and latest 'Guidance on Sustainability'. Expert speakers from organisations including Google and the UN explored the big picture of sustainability, and the pivotal role of engineers in responding to climate change.
The one-hour webinar is available to view online, at www.engc.org.uk/makingitwork
UN Assistant Secretary General (Executive Director, UNITAR) Nikhil Seth, set out how the UN's Sustainable Development Goals (SDGs) function as a significant blueprint for humanity, and how Engineering Council Standards can help achieve these goals. In conversation with John Chudley CEng FIMarEST, Rector, MLA College (and an Engineering Council Board members), he said:

"Engineers shape the world and engineering affects almost every aspect of our lives. The impact of engineering ranges from providing clean water and ensuring stable food supply to providing reliable, affordable energy… The efficient and effective use of resources is something we all have to be responsible for, but engineers - who have such an important impact - have a particular responsibility to minimise adverse impact and maximise potential benefit."

Google's AI/Machine Learning Practice Lead, Dr Larissa Suzuki BSc MPhil PhD CEng FRSA MIET AFHEA, shared her experience of how professional standards support her, as an individual engineer working in a cutting-edge field. She said:

"My career goal is to become a Vice President of Engineering, and the engineering Standards are helping me to achieve this goal by continuously learning and developing my skills in my career and in engineering."  

The event was hosted by Engineering Council Chairman Professor Chris Atkin CEng FRAeS FREng. Sharing their expertise on sustainability principles and their practical application, Terry Fuller CEng MICE FCIWEM, Chief Executive of the Chartered Institution of Water and Environmental Management (CIWEM) highlighted the key elements of the Engineering Council's guidance. Julie Godefroy CEng, Technical Manager of the Chartered Institution of Building Services Engineers (CIBSE) and Sustainability Consultant demonstrated how these are contextualised in CIBSE's guidance for their sector and Clara Bagenal George CEng MCIBSE explained how she puts this into practice in her work as a Building Services Engineer.

The Engineering Council's Chief Executive Officer Alasdair Coates CEng FICE MCIHT CMIOSH said:

"Engineers build the future and develop innovative solutions to complex problems. Creating a more sustainable future is a pressing challenge and the Engineering Council's professional standards and guidance can support engineers and technicians as they rise to this challenge throughout their careers. We hope people come away from this event really perceiving the value that professional registration, our Standards and guidance and the support from the professional institutions can offer them."

Watch the webinar.

Download the latest UK Standard for Professional Engineering Competence (UK-SPEC) and 'Guidance on Sustainability'.

For press enquiries:

Kate Webster, Engineering Council – kwebster@engc.org.uk, 020 3206 0567

Notes for editors:

The Engineering Council holds the national Register of Engineering Technicians (EngTech), Incorporated Engineers (IEng), Chartered Engineers (CEng) and Information and Communication Technology Technicians (ICTTech). It also sets and maintains the internationally recognised standards of competence and ethics that govern the award and retention of these titles. By this means it is able to ensure that employers, government and wider society, both at home and overseas, can have confidence in the skills and commitment of registrants. For more information visit: www.engc.org.uk