Registrants recognised in New Year's Honours List 2020
Published: 13/01/2020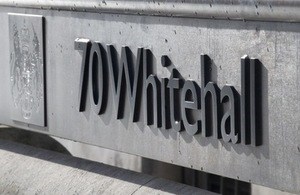 The Chair, trustees and staff of the Engineering Council would like to congratulate Dr Hayaatun Sillem CBE, Chief Executive of the Royal Academy of Engineering on her recognition for services to International Engineering, as well as Engineering Council Board Member Ann Francke OBE, Chief Executive Officer of the Chartered Management Institute, on her recognition for services to workplace equality.
By becoming professionally registered, all Chartered Engineers, Incorporated Engineers and Engineering Technicians have demonstrated their competence and commitment against an internationally recognised standard. This includes a personal commitment to professional standards, recognising obligations to society, the profession and the environment.
The Engineering Council would like to congratulate the following registrants on being recognised in the 2020 New Year's Honours List:
Dame Commander (DBE)
Professor Lynn Faith Gladden DBE CEng FRS FREng FIChemE
Executive Chair, Engineering and Physical Sciences Research Council. For services to Academic and Industrial Research in Chemical Engineering
Knight Commander (KBE)
Air Marshal Sir Julian Alexander Young KBE CB RAF CEng FIET FREng
Military List RAF
Commander of the Most Excellent Order of the British Empire (CBE)
Professor Colin Gareth Bailey CBE CEng FIStructE FREng
President and Principal, Queen Mary University of London. For services to Engineering
Paul Foster CBE CEng MIMMM
Chief Executive Officer, Sellafield Limited. For services to Business
Caroline Hargrove CBE CEng FREng IMechE
Chief Technology Officer, Babylon Health. For services to Engineering
Andrew Maurice Gordon Bud CBE CEng FIET
Chief Executive Officer, IProov and Global Chairman, Mobile Ecosystem Forum. For services to Exports in Science and Technology
John Campbell Hudson CBE CEng FRINA
Managing Director, Maritime, BAE Systems. For services to the Royal Navy and to Naval Shipbuilding and Design
Peter George Hansford CBE CEng FICE FREng
For services to Innovation in Civil Engineering
Professor John Ernest Nolan CBE CEng FICE FIStructE
Lately Chairman, Construction Industry Council and President, Institution of Structural Engineers. For services to Structural Engineering and the Construction Industry
Officer of the Most Excellent Order of the British Empire (OBE)
Jon Richard Pearson OBE IEng MIET
Warship Support Director, BAE Systems. For services to the Royal Navy  
Dawn Rebecca Fitt OBE IEng MIET
Engineering Apprenticeship Training Co-ordinator, Bedford College. For services to Training, Inclusion and Diversity in Engineering       
Member of the Most Excellent Order of the British Empire (MBE)
Yewande Modupe Mayomi-Akinola MBE CEng MIET
Principal Engineer, Laing O'Rourke. For services to Engineering and Diversity in STEM Design and Innovation
Olanike Adefemi Folayan MBE CEng MIET
Co-founder, Association for Black and Minority Ethnic Engineers UK. For services to Diversity in Engineering
Major Christopher David Ayres MBE REME CEng MIMechE
Military List Army REME
Capt Alexander Morrison RE MBE EngTech MInstRE
Military List Army RE
Professor Adisa Azapagic MBE CEng FIChemE FREng
Professor of Sustainable Chemical Engineering, University of Manchester. For services to Sustainability and Carbon Footprinting
Mark Edward Apsey MBE CEng MIChemE
Director, Ameresco. For services to Sustainable Energy and Energy Efficiency
Annette Julia Henley MBE CEng FIET
Lead Engineer for Infrastructure, National Communications Data Service, Home Office. For services to Raising Awareness of Mental Health Issues
The full New Year's Honours List 2020 can be found on the government's website.
For press enquiries:   
Kate Webster, Engineering Council – kwebster@eng.org.uk, 020 3206 0567
Notes for editors:
The Engineering Council holds the national Register of Engineering Technicians (EngTech), Incorporated Engineers (IEng), Chartered Engineers (CEng) and Information and Communication Technology Technicians (ICTTech). It also sets and maintains the internationally recognised standards of competence and ethics that govern the award and retention of these titles. By this means it is able to ensure that employers, government and wider society, both at home and overseas, can have confidence in the skills and commitment of registrants.
For more information visit: www.engc.org.uk