How safe is safe enough? Public debate on autonomous transport needed, say engineers
Published: 09/12/2020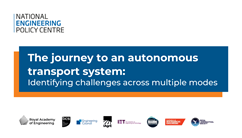 Honest public debate is needed to enable the safe development of autonomous transport – from driverless cars and delivery drones to uncrewed ships, according to a paper published by the National Engineering Policy Centre (NEPC). The journey to an autonomous transport system: identifying challenges across multiple modes says that developing technologies and services that are trustworthy, ethical and inclusive will require extensive consultation, multidisciplinary collaboration and culture change.
The COVID-19 pandemic has accelerated innovation in autonomous systems, with a surge in demand for the services of pavement delivery robots, such as Starship Technologies operating in Milton Keynes. In the US, Nuro, a self-driving delivery van, was recently granted a fixed-term regulatory exemption enabling it to operate on the roads autonomously without features that allow a driver to take control.
UK codes of conduct are already in place to support the testing of autonomous surface ships and self-driving vehicles. These are considered to set a minimum standard, with some developers going significantly above the requirements, moving towards anticipated market expectations. Government is currently assessing the safety of the Automated Lane Keeping System, a system that can take over control of a vehicle, keeping it in lane on motorways - increasing the level of automation but creating new challenges due to shared control.
The paper highlights that autonomous systems can create safer, more efficient and lower carbon transportation systems. It points out however that realising these benefits depends on how the future transport system is envisioned, engineered, and implemented. There are lots of efforts underway to get the environment right for autonomous systems with research funding, technology demonstrators and regulatory collaborations.
The following key challenges are identified that need to be overcome before widespread deployment is possible:
fostering collaboration between different transport modes and across disciplines. This would enable different perspectives to be made and collective decisions to be shared that merit public support and ensure alignment across infrastructure, levelling up and decarbonisation agendas
developing a training pipeline that creates, reskills and upskills the engineering profession to develop, deploy and maintain these autonomous transport solutions throughout their operational lifetimes while simultaneously evolving and maintaining technical and ethical competencies
establishing oversight mechanisms to attribute responsibility and improve transparency and information sharing across the whole transport system
Professor Paul Newman FREng, Chief Technical Officer of Oxbotica and a member of the NEPC's Safety and ethics of autonomous systems project working group, says:
"Autonomous systems offer so many opportunities in transport: if we can join up road freight, ports and maritime operations there is potential for significant efficiency gains. However, as a developer I know these systems, while potentially superhuman, are not supernatural – they will inevitably make some mistakes (albeit far fewer than humans) and these will likely be different in nature to the mistakes humans tend to make. We need an open public conversation on how these systems will perform in order to build a culture of trust."
Read the paper at www.raeng.org.uk/publications/reports/the-journey-to-an-autonomous-transport-system
Notes for Editors
1.The journey to an autonomous transport system: identifying challenges across multiple modes was compiled following a roundtable discussion on the development of autonomous systems in transport with input in particular from the British Computer Society, the Engineering Council, the Institute of Agricultural Engineering, the Institution of Engineering and Technology, the Institute of Marine Engineering, Science and Technology, the Institution of Mechanical Engineers and the Royal Aeronautical Society.
This paper exploring the issues around autonomous systems in transport is the first of a series of deep dives to help develop a wider understanding across different sectors, on which to base recommendations to support the safe and ethical development and deployment of autonomous systems across the UK. Further deep dives are planned covering healthcare and social media.
For more details of the work of the NEPC's Safety and ethics of autonomous systems project visit www.raeng.org.uk/policy/safety-and-ethics-of-autonomous-systems
2. The National Engineering Policy Centre
We are a unified voice for 43 professional engineering organisations, representing 450,000 engineers, a partnership led by the Royal Academy of Engineering.
We give policymakers a single route to advice from across the engineering profession.
We inform and respond to policy issues of national importance, for the benefit of society.
3. The Royal Academy of Engineering is harnessing the power of engineering to build a sustainable society and an inclusive economy that works for everyone.
In collaboration with our Fellows and partners, we're growing talent and developing skills for the future, driving innovation and building global partnerships, and influencing policy and engaging the public.
Together we're working to tackle the greatest challenges of our age.
For more information please contact:
Jane Sutton at the Royal Academy of Engineering
T: +44 207 766 0636
E: Jane Sutton