Registrants win at IET Young Woman Engineer Awards
Published: 11/12/2019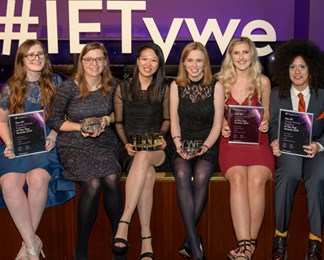 The Engineering Council would like to congratulate registrants on winning two of the top prizes at the Institution of Engineering and Technology (IET) Young Woman Engineer Awards.
These annual Awards recognise the contributions of exceptional female engineers working in the UK. The award ceremony was held on 5 December 2019 at Savoy Place in London, hosted by presenters Sandi Toksvig and June Sarpong. Four awards were presented in total:
Young Woman Engineer of the Year (YWE)
Women's Engineering Society (WES) Award
The Mary George Memorial Prize for Apprentices
Gender Diversity Ambassador Award
Ying Wan Loh CEng MIMechE took home the IET Young Woman Engineer of the Year Award. Ying is a Manufacturing Engineering Team Leader at Rolls-Royce, and holds an MPhil from the University of Cambridge in Industrial Systems, Manufacture and Management. She is a science, technology engineering and maths (STEM) Ambassador and co-founder of a technology start-up which won the Chinese Students and Scholars Association (CSSA) UK High-Tech Entrepreneurship Bronze Award.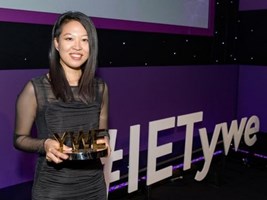 On winning the award Ying said:
"Since I'm on this stage allow me to use this platform to raise the profile of women in STEM... My challenge to the audience today is when we talk about great scientists: I challenge you to mention equal proportions of male and female scientists. Einstein, Darwin, Newton sitting equally alongside Ada Lovelace, Marie Curie and Katherine Johnson. Capture the imagination of young girls everywhere: plant that seed that they can, too, be engineers that have the power to change the world."
Dr Claire Lucas MEng DPhil (Oxon) CEng SFHEA FIMechE MINCOSE won the Women's Engineering Society (WES) Award. Claire is an Associate Professor of Systems and Information Engineering at Warwick University, and was recognised for her dedication to inspiring the next generation of women in engineering.
On winning the award, Claire said:
"Forty percent of my students are female on my course and they are brilliant. They're great and they make everybody else great around them. I can't wait until they go and start working for all the companies represented here and do amazing things - and that is why I do what I do. It's my passion that no girl will ever be the only girl in a group, or the only girl in a room, or have their voice ignored."
Samantha Magowan won the Mary George Memorial Prize for Apprentices, and Wing Commander Glynis Dean won the Gender Diversity Ambassador Award. Other finalists for the Awards were: Charlotte Buffey, Shrouk El-Attar and Amber O'Connor.
More information is available from the IET, including a video of the awards ceremony.
First image, courtesy of the IET is of YWE Finalists: Amber O'Connor, Dr. Claire Lucas, Ying Wan Loh, Samantha Magowan, Charlotte Buffey and Shrouk El-Attar
Second image, courtesy of Ying Wan Loh, is of Ying with her award. 
For press enquiries:   
Kate Webster, Engineering Council – kwebster@eng.org.uk, 020 3206 0567
The Engineering Council holds the national Register of Engineering Technicians (EngTech), Incorporated Engineers (IEng), Chartered Engineers (CEng) and Information and Communication Technology Technicians (ICTTech). It also sets and maintains the internationally recognised standards of competence and ethics that govern the award and retention of these titles. By this means it is able to ensure that employers, government and wider society, both at home and overseas, can have confidence in the skills and commitment of registrants. For more information visit: www.engc.org.uk