Registrant appointed House of Commons' Serjeant at Arms
Published: 25/10/2019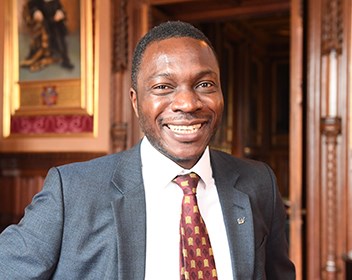 The Engineering Council would like to congratulate Ugbana Oyet BEng (Hons) CEng CMgr FIET MCMI on his appointment as the new Serjeant at Arms.
A Chartered Engineer and Fellow of the Institution of Engineering and Technology (IET), Ugbana will be taking on a role that dates back to 1415 and has responsibility for keeping order within the Commons side of the parliamentary estate.
As Parliament's Principal Electrical Engineer and current Programme Director for its Estate-Wide Engineering Infrastructure and Resilience (EWEIR) Programme, Ugbana has overseen an ambitious and complex programme which aims to make the Grade I listed parliamentary estate more energy efficient and carbon neutral by 2050. Solar panels are being added to a structure which, in some places, still uses steam for heating. As part of this project, last year Ugbana reduced the estate's emergency electrical power costs from £1m to £275,000.
Speaking about the work he said: "No comparable project has the same level of complexity of services, historic context and working constraints." The engineering solutions required are on a scale that is "possibly unmatched in any other Grade I Listed Building restoration programme in the UK or any building within a World Heritage site."
In addition to managing a team 70 members of staff across four departments, the responsibilities of the Serjeant at Arms include ceremonial aspects such as wearing traditional court dress and carrying the mace into the House of Lords at the State Opening of Parliament. The Serjeant at Arms is also the only person allowed to carry a sword inside the House of Commons chamber.
Ugbana said of his new appointment: "It is a great honour to serve in such a historic role, which combines the needs and challenges of the modern era, while also maintaining the dignity and essential traditions that have helped Parliament endure.
"I'm a real people-person and love working closely with MPs, staff and members of the public, so I will do my best to enhance morale and improve the excellent service already provided by the Serjeant's office."
Speaking about his appointment, the Speaker of the House of Commons, the Rt Hon John Bercow, said:
"I have known Ugbana for several years and have always been impressed by his ability, his attitude and his approach to other people. My longstanding impression of him was confirmed when he won a diversity and inclusion award for being an 'an inspiring role model'."
Ugbana Oyet was born in Nigeria, moving to the UK as a child in 1991. He has delivered international projects worth billions of pounds, including a village complex in Abu Dhabi and a whole city in Saudi Arabia, including a desalination plant and a power station.
Please see the full announcement from IET for further details.

Image: ©UK Parliament/Jessica Taylor https://creativecommons.org/licenses/by/3.0/
For press enquiries:
Kate Webster, Engineering Council – kwebster@engc.org.uk, 020 3206 0567
Notes for editors:
The Engineering Council holds the national Register of Engineering Technicians (EngTech), Incorporated Engineers (IEng), Chartered Engineers (CEng) and Information and Communication Technology Technicians (ICTTech). It also sets and maintains the internationally recognised standards of competence and ethics that govern the award and retention of these titles. By this means it is able to ensure that employers, government and wider society, both at home and overseas, can have confidence in the skills and commitment of registrants. For more information visit: www.engc.org.uk