Mandy Lester of Atkins wins WES' Karen Burt Award for best new female Chartered Engineer
Published: 30/10/2019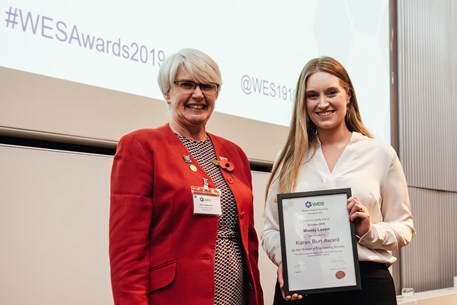 The Engineering Council would like to congratulate Mandy Lester MPhys CEng MIChemE on winning the Karen Burt Memorial Award.
The annual award from the Women's Engineering Society (WES) recognises a woman who has recently achieved the status of Chartered Engineer (CEng) and demonstrates both excellence and potential in engineering, applied science and IT. Mandy Lester was presented with the award on 30 October 2019 at the Caroline Haslett Lecture and WES Awards ceremony, held in London and hosted by the Institution of Mechanical Engineers (IMechE).
This year's winner Mandy Lester has a Masters in Physics (MPhys) from the University of Manchester and nine years' experience in the water, wastewater and nuclear sectors. She is currently Senior Process Engineer at Atkins, a design, engineering and project management consultancy. Mandy is responsible for the safe and efficient design of water treatment systems and is a hazard and operability study facilitator, leading expert teams in functional safety reviews. She also chairs the Process Engineering knowledge network working groups on Raw Water Management, Oxidation and Emerging Contaminants, collating industry best practice. She also supports the development and progression of junior chemical engineers, and in the past has managed regional undergraduate and school placements programmes.
Chair of the Judges' panel Sally Sudworth said: "The judges were impressed with Mandy's commitment to engineering, addressing sustainability in the key area of water supply and the valuable support and mentoring in the development of others."
Mandy Lester said: "I am beyond thrilled to receive the Karen Burt award, which is an unexpected but deeply gratifying endorsement, having transitioned into engineering with a scientific degree. I'm proud to be part of a profession that has the power to effect real, positive solutions to the dual challenges of climate change and growing populations.
Engineers aren't born, they're made – in my case with the support of the IChemE along with the many individuals who've inspired me to pursue this hugely enriching career and achieve the gold standard of competence; Chartered Chemical Engineer status.
We need engineers, and those engineers to be from diverse walks of life, now more than ever so I look forward to working more with IChemE and WES to encourage more women to choose a career in engineering."
WES is a not-for-profit network, founded in 1919, which continues to offer support, professional development and inspiration to women engineers, scientists and technologists.  The society encourages women to study and pursue careers in STEM, recognises excellence and supports gender equality in the workplace.
Now in its 21st year, the Karen Burt Memorial Award is named in memory of Dr Karen Burt, an eminent physicist and supporter of women in Science, Technology, Engineering and Mathematics (STEM). It recognises an individual woman's contributions to the profession and highlights the importance of Chartered status. Each Professional Engineering Institution (PEI) can nominate one candidate from its own recently Chartered members. The award is funded by a bequest made by Karen's father, Professor Cyril Hilsum CBE FRS Fen.
Also awarded at the ceremony were the Men as Allies Award, given to Rob Sims (H&S Signatory Management at Airbus) and the Amy Johnson Inspiration Award, given to Natalie Cheung (STEM Ambassador Coordinator at STEM Learning).
Please see the WES website for further details. 
For press enquiries:
Kate Webster, Engineering Council – kwebster@engc.org.uk, 020 3206 0567
Notes for editors:
The Engineering Council holds the national Register of Engineering Technicians (EngTech), Incorporated Engineers (IEng), Chartered Engineers (CEng) and Information and Communication Technology Technicians (ICTTech). It also sets and maintains the internationally recognised standards of competence and ethics that govern the award and retention of these titles. By this means it is able to ensure that employers, government and wider society, both at home and overseas, can have confidence in the skills and commitment of registrants. For more information visit: www.engc.org.uk