Susan Deeny of Ove Arup & Partners wins WES' Karen Burt Award for best new female Chartered Engineer
Published: 02/10/2018
The Women's Engineering Society is delighted to announce the winner of the Karen Burt Award 2018 as the candidate nominated by the Institution of Fire Engineers: Susan Deeny CEng MIFireE of Ove Arup & Partners. This prestigious annual award for a newly Chartered woman engineer, now in its 20th year, recognises the candidate's excellence and potential in the practice of engineering; highlights the importance of Chartered status; as well as offering recognition to contributions made by the candidate to the promotion of the engineering profession.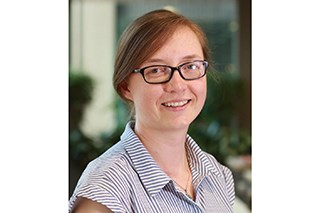 Susan Deeny is currently a Senior Fire Engineer at Ove Arup & Partners.
Statement from Sally Sudworth, Chair of the Judges, Karen Burt Award 2018
"Susan Deeny is a Chartered Engineer with the Institution of Fire Engineers and in 2011 was awarded a doctorate in structural fire engineering from the University of Edinburgh. Her contribution to science and engineering in this specialist field is significant. In 2016 Susan was awarded the Margaret Law Award for her creative approach to fire safety design and for her outstanding individual research. She is recognised in her field as an expert witness and has most recently had a supporting role in the Grenfell Tower Inquiry. Her commitment to coaching and training is impressive having produced training material, given lectures, supervised and coached PhD students and has also managed school work placements. The judges were particularly impressed with Susan's role in optimising the design of the iconic Macallan Distillery."
Susan Deeny's reaction to winning the Karen Burt Award was:
"I am truly delighted to receive the Karen Burt Memorial Award from the Women's Engineering Society. Engineering has been such a challenging and rewarding career for me.
As a fire safety engineer, my work has helped to shape the built environment in all parts of our lives – our homes, schools, hospitals, places of work and infrastructure. I was drawn into engineering by the buzz of seeing my work shape the world around me. I believe our built environment would be better for all of us if the people engineering it are representative of our society. So I'm pleased to represent the Women's Engineering Society which inspires and supports women in all stages of their career.
I am also particularly pleased to represent the Institution of Fire Engineers. Fire safety engineers play a key role in addressing the risk to life and property from fire. Fire safety engineering is a young discipline, so engineering Chartership is vitally important to the progression and development of our industry."
Elizabeth Donnelly, CEO of the Women's Engineering Society (WES) said "WES supports women to reach their potential in engineering and succeed at all stages of their careers. The Karen Burt award recognises the achievements of an exceptional early-stage career woman engineer and I am delighted that Susan has won this year's award. Her contributions to the profession are outstanding, and I am sure that she will continue to inspire many others to become engineers. Many congratulations to Susan for her success."
Dr Graham Cory, CEO of The Institution of Fire Engineers said "It is important to emphasise that Susan is an outstanding professional engineer who happens to be a woman, not the other way around. Her colleagues throughout the Institution of Fire Engineers join in celebrating her achievement."
The Karen Burt Award 2018 was presented to Susan Deeny on 2 October at the WES Caroline Haslett Lecture and Awards Ceremony, held at the Institution of Structural Engineers in London.  The Caroline Haslett Lecture was given by given by Dr Anne-Marie Imafidon OBE, co-founder and Head STEMette of STEMettes, the award-winning social enterprise inspiring the next generation of females into STEM roles.
Two other prizes were also presented at the awards ceremony: the WES 'Men as Allies Award' and WES 'Amy Johnson Inspiration Award'.
Men as Allies Award
Winner – Stephen Reid, Head of Development at Formulate Digital
With men holding the majority of roles within engineering and applied sciences, it is crucial that they are involved making the cultural changes needed to attract and retain women in engineering and applied sciences. The WES Men as Allies Award seeks to celebrate a male engineer, or professional male working within the engineering, technical and applied sciences sectors, who has gone above the call of duty to support his female colleagues and address the gender imbalance within engineering and applied sciences in general.
Betty Bonnardel-Azzarelli, Chair of the judging panel said "With the great quality of applications received for the Men as Allies award, judges have found it difficult to pick only one winner, but Stephen Reid was consistently named as one of the top contenders by all judges. In addition to his day job, Stephen has been teaching computing to women with charities, and has also contributed to leading research on the prevalence of bias in machine learning."
Amy Johnson Inspiration Award
Winner – Tabitha Goldstaub, Co-founder of Cognition X
This award honours a non-engineer who has made a truly remarkable achievement in furthering the diversity agenda within engineering and applied sciences. This award serves to recognise the efforts of an individual in inspiring more women to enter and/or remain in the engineering and technical professions.
Betty Bonnardel-Azzarelli, Chair of the judging panel said "I have been impressed with the quality of applications received for the Amy Johnson award this year. Tabitha's approach to artificial intelligence and how she uses it to support to women in tech impressed the judges. She is using her positions in highly visible roles with government and the mayor's office to promote diversity in tech."