Highlights of Engineering Council's activities in 2017
Published: 13/04/2018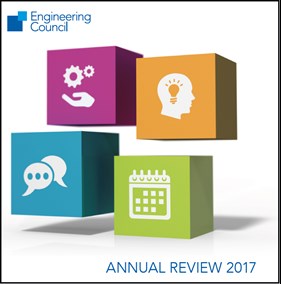 Each year the Engineering Council publishes a brief overview of its activities and achievements. The Annual Review 2017 outlines the Engineering Council's vision and mission and gives a brief overview of how our strategic objectives have been delivered. 
With both a new Chief Executive Officer and Chairman coming in to post during the year, 2017 naturally saw a period of change, all underpinned by the establishment of our next Strategic Plan for 2018-2020. However, the Engineering Council has continued to operate a robust national Register and to provide assurance to society of the knowledge, experience and commitment of our professionally registered engineers and technicians. 
Highlights of 2017 include:
updating our Guidance on Continuing Professional Development (CPD) and developing an online animation to support registrants in carrying out CPD
increased support for Engineering Technicians' career development and the development of a new online toolkit
agreeing to offer External Quality Assurance (EQA) for Trailblazer Apprenticeships from January 2018
exploring the potential to develop international Common Training Principles and continuing to facilitate international mobility for engineers
providing Volunteer Seminars to share best practice and support volunteers
increasing the efficiency of core registration processes
revising key guidance documents, Guidance on Codes of Conduct and Disciplinary Procedures, and launching the revised Statement of Ethical Principles
introducing the Partner Portal, a secure online source of information and resources for volunteers and professional institutional staff 
The Annual Review 2017 also summarises the Engineering Council's Strategic Plan 2018-2020, which will drive our work over the next three years. 
A more detailed and in-depth review will be found in the Engineering Council's Annual Report and Financial Accounts, which will be published following the Annual General Meeting (AGM). To read the full document, please download the Annual Review 2017 here or request a printed copy from marketing@engc.org.uk The Annual Review for 2016 is available here.
- Ends -
For press enquiries:        
Kate Webster, Engineering Council: kwebster@engc.org.uk, 020 3206 0567
The Engineering Council holds the national Register of Engineering Technicians (EngTech), Incorporated Engineers (IEng), Chartered Engineers (CEng) and Information and Communication Technology Technicians (ICTTech). It also sets and maintains the internationally recognised standards of competence and ethics that govern the award and retention of these titles. By this means it is able to ensure that employers, government and wider society, both at home and overseas, can have confidence in the skills and commitment of registrants. For more information visit: www.engc.org.uk