World-leading expert of silicon photonics receives the Sir Frank Whittle Medal
Published: 29/09/2023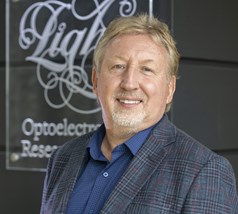 Professor Graham Reed FIET FOSA FSPIE FREng FEOS a pioneer in silicon photonics, has received one of the Royal Academy of Engineering's highest accolades, the Sir Frank Whittle Medal.
The medal, named after British aviation engineer Sir Frank Whittle, is awarded to a UK resident engineer whose outstanding and sustained achievements have a profound impact on their engineering discipline. The award was presented to Professor Reed at the Academy's AGM in London on 19 September by Sir Frank's granddaughter.
Professor Reed has recently been appointed the Director of Optoelectronics Research Centre at the University of Southampton and has been at the forefront of silicon photonics for over 30 years, having contributed significantly to the industry and established the pioneering Silicon Photonics Research Group at the University of Surrey in 1989.
He is particularly well known for his work on silicon optical modulators, publishing the first design of a depletion modulator, now an industry standard, as well as landmark high-speed modulators. His current projects on emerging applications where the technology is potentially transformative, include LIDAR for imaging systems, miniature optical sensors for healthcare and environmental monitoring, mid infrared silicon photonics, silicon photonics for space, neuromorphic computing and AI, and photonics for computing.
Professor Reed said:
"I'm delighted and humbled to receive the Sir Frank Whittle Medal. It is an honour to be added to such an eminent list of previous winners.
"This medal is recognition for a contribution to engineering over a sustained period, and I must say that this is only possible with an excellent team. Therefore, I must pay tribute to members of my Silicon Photonics Group past and present. I have been fortunate to be able to recruit excellent individuals over a period of more than 30 years, many of whom are now world leaders themselves, so I regard this award as being as much for them as for me."
Professor Sir David Payne KBE FRS FREng, who supported his nomination said:
"Graham is that rare combination of a top-class scientist and an inspiring and enthusiastic leader driving the world silicon photonics community, constantly striving for excellence in all his professional undertakings and to achieve impact via industrial take up of his developments."
"There would be no silicon photonics technology today without Graham Reed. He initiated the field, pioneered much of the early work, demonstrated its viability, and today has a plethora of world firsts to his credit."
For more information, please visit the Royal Academy of Engineering website.