Women's History Month 2023: Inspirational women in engineering
Published: 08/03/2023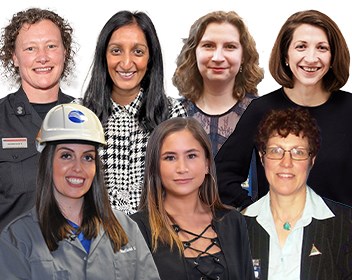 Engineering affects every aspect of our lives and day-to-day is a problem solving, creative career, that offers variety and mobility.
Our case studies library includes many inspirational female engineers and technicians who are professionally registered and at the top of their profession, winning prestigious awards and representing their professional engineering institutions (PEIs) at the highest levels. Some have overcome significant pressures and other demands on their time to become professionally registered and others are volunteering to ensure more women and girls are inspired to follow in their footsteps.
For Women's History Month, here are just a few of these inspirational professionally registered engineers, with their thoughts on the profession, their careers and achievements, and what motivates them:
Dr Parina Patel BSc (Hons) PhD CEng MIFireE talks about how professional registration helps give her recognition in what she has found to be a male-dominated area of work: "I felt that becoming a Chartered Engineer (CEng) would give me recognition from my peers, superiors, and other engineers inside and outside of my organisation. I don't have a 'traditional' engineering background and so I hope I can inspire those who do not fit the 'engineering mould' to become professionally registered…. Being the only female in the room or the only non-white person in the room has been my experience since completing my A Levels."
Jade White BSc BEng (Hons) CEng MWeldI EWE/IWE is "a member of the Women in Nuclear … at Sellafield. Being female has given me multiple opportunities to branch out from my role and support equality in engineering. I can happily say I have never met resistance from male colleagues and have always been encouraged throughout my training and early career with Sellafield. I am however aware that I stand out within the welding engineering field, as females in this role are few and far between."
She also takes an active role encouraging the next generation, saying: "I volunteer as a school Chair of Governors and as a Science, Technology, Engineering and Maths (STEM) Ambassador with particular emphasis on girls in engineering. I have previously been a member of WES, the Women's Engineering Society."
Being able to balance competing priorities and multi-task is an essential for most professionals. Alison Scott BEng (Hons) IEng MIFireE says that one of her greatest achievements was: "Achieving a First-Class Honours Degree later in life, while balancing home life and a full-time job is an achievement I never thought I would be able to attain. I'm very proud of that accomplishment and achieving professional registration as an Incorporated Engineer (IEng)."
Agnieszka Jezierska MSc CEng MCIHT achieved her professional registration after a career break. She says: "Having had quite a substantial career break (over six years) my biggest professional achievement is becoming a Chartered Engineer (CEng) with the Chartered Institution of Highways & Transportation (CIHT). When I first decided to go back to work (initially only on a part-time basis) I had low self-esteem. Moving from arranging playdates and planning dinners to arranging drainage repair and planning on multimillion-pound projects is an absolutely huge professional achievement for me. To then work from home through the Covid-19 pandemic, with two children at home (who have thankfully been home-schooled mostly by my husband), achieve chartered status and also the CIHT Outstanding Performance at Professional Review Award, are beyond what I could ever imagine. It is something that I am very proud of on a personal and professional level."
Catherine Downes EngTech MCIHT says that, while "With two children, I have often found it hard to dedicate the time to becoming professionally registered…starting a new role revived my interest in engineering (reminding me why I had pursued a career in this field) and gave me the determination to complete my professional registration and gain Engineering Technician (EngTech) status. On receiving my professional registration and achieving my award, I was provided with a lot of exposure within the company. It was a fantastic feeling to receive praise and recognition for my achievements which I have worked so hard for, even receiving a personal message from the Managing Director of Amey Consulting, expressing his congratulations." Catherine also achieved the CIHT 'Award for Outstanding Performance at Professional Review' for her EngTech review.
Alexandra Keeler BEng (Hons) IEng MIMechE was awarded the Baroness Platt of Writtle Award for 2022. She says that this "is my biggest achievement to date. This award is for the most outstanding individual registered as an Incorporated Engineer (IEng) each year. It is an incredible honour to have presented my career to such esteemed engineers in addition to the opportunities winning this award has presented. Achieving my IEng status was the highest achievement until April of this year, as I felt it gave me the opportunity to share my journey, while providing an insight into my passion, not only for my role and industry but all the areas I am actively involved in."
Women engineers play important roles in the profession, representing their PEIs and contributing to strategy. Jo Parker MBE BSc MBA CEng FICE FIWater FCIWEM sits on the Engineering Council's Board of Trustees. She is also: "Vice President of Engineering at the Institute of Water (IWater) which I thoroughly enjoy. This role ensures that IWater maintains its procedures and that professionally registered engineers in IWater are catered for. I'm also Chair of the Water and Sanitation Community Advisory Board at the Institution of Civil Engineers (ICE) which provides input into the Engineering Knowledge section of ICE. I'm a member of the Water Loss Specialist group of the International Water Association (IWA) and many of the other members have become fast friends. I've gained work through this, but also lifelong friends. The same can be said of the Pipeline Industries Guild – I have so many friends there. Finally I work with the climate emergency group and the Diversity and Inclusion group of the Women's Engineering Society (WES) which is very rewarding."
Rebecca Hatch MBA IEng MILP has a top role in her PEI – that of a Senior Vice President of the Institution of Lighting Professionals (ILP). She says: "I have been an active member of the ILP since joining the industry and in 2009, I co-founded a group within the ILP called the Young Lighting Professionals (YLP) for those new to the industry, like I was, under 35 years of age. To see that group grow and form a mature committee over the years has been extremely rewarding and as a previous YLP Chair to now be on the ILP Executive Board and to become President gives the current young lighting professionals the confidence that they can progress through the institution to reach the Presidency. I am joined on the current ILP Exec Board by three other YLP past chairs, which makes it all the more exciting."
A recent report by EngineeringUK shows that a lower percentage of female students studying Maths and Physics at A level go onto higher education in engineering and technology than male students (8%, compared to 23%). This translates into only 18% of those studying undergraduate degrees in engineering and technology being female, compared to 57% for all degree subjects. Given the importance of engineering to the UK economy and the achievement of net zero, it is important to strengthen the pipeline of new engineers. That includes continuing the positive trend on the proportion of women in the engineering workforce, which has risen from 10.5% in 2010 to 16.5% in 2021.