Women's History Month 2022 – celebrating the work of women in engineering
Published: 28/03/2022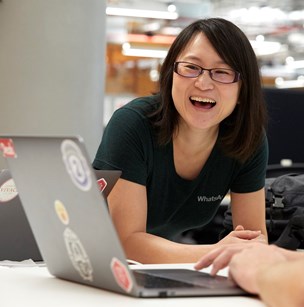 As we come to the end of this year's Women's History Month, the Engineering Council wanted to share a few of our most recently updated case studies, showcasing women engineers' and technicians' achievements.
Engineering is a hugely diverse career, with a wide range of role and specialisms. Working in the public, private and third sectors, we asked a selection of registrants what they find most enjoyable about their jobs.
Senior Director Blessing Danha CEng MICE: "I am a people person and I really love the soft skills elements of this job: it's about diplomacy and relationship building. I was invited to speak at the 2020 Labour Party Conference on behalf of the Institution of Civil Engineers (ICE). I absolutely loved putting the case forward for what government should be doing to support the industry. Big infrastructure is political."

Transport Planner Katherine Moynihan ICTTech MIHE: "I most enjoy the opportunity to work on a variety of different projects in different regions. My team are particularly great people so that's also a bonus! I was the first person in my company to achieve ICTTech with the Institute of Highway Engineers (IHE), which I am very proud of. I currently sit on the inaugural Junior Leadership Team at Jacobs, representing my team."
Lecturer in Mechanical Engineering Jenny Roberts MEng CEng MIED: "I really enjoy the teaching side of my role and exploring new ways of making the learning experience engaging. This has been a particular challenge given the pivot to online delivery in 2020 and subsequently using a blended approach in 2021/2022. However, it has given me the opportunity to explore how technology can be used effectively, resulting in a more accessible approach that is no longer limited by the physical learning environment. Chartered status has been a goal of mine since the age of around 17 and is undoubtedly the aspect of my career to date that I'm most proud of, especially as there have been times when I've been unsure whether I could achieve this as well as having a family."

Senior Development Infrastructure Officer Kelly De-Maria EngTech MCIHT: "The thing I find most enjoyable about my job is the variety of skills I am able to use on a day-to- day basis. No two days are the same. Some days can be very technical or involve site visits, whereas other days can be more related to planning or legal agreement progress. I was very keen to become professionally registered so that my employer and the engineering profession as a whole could see I was dedicated to my career as an engineer. I also wanted to demonstrate that I work professionally and to a high standard."

Head of Business – Lighting and Energy Solutions, Rebecca Hatch MBA IEng MILP: "Working with a diverse team of people who are world-leading experts in their fields and learning from them every day. As a young, female engineer it was important to me to have an industry-recognised title to demonstrate to others my position and to back-up the skills and experience I was gaining. It was also important to my employers, as it enables them to demonstrate they employ competent engineers and provide evidence of that for tenders or contract bids."

Consultant Charlotte Jones BEng (Hons) EngTech MICE: "I really enjoy doing Road Safety Audits as a Team Leader, working with different local authorities and at different locations. No audit is the same. Each audit has its own issues to identify, which creates more of a challenge, and I enjoy that. I also like to get away from my desk from time to time; being an auditor allows me to do this, as site visits are a necessity to properly audit each highway improvement scheme. In 2018 I won Apprentice of the Year at the Consultancy and Engineering Awards… I was also thrilled to be included in the Women's Engineering Society (WES) UK Top 50 Women in Engineering (WE50) list for 2019, which was highlighting present and former apprentices."

Principal Project Manager Agnieszka Jezierska MSc CEng MCIHT: "Seeing the tangible difference I can make to people's lives drives me and motivates me. The problem solving challenges that make us better and more experienced, as well as a dynamic environment, also mean I love what I do. After attending an evening talk (while I was still on my career break taken to raise my children), I was very impressed with the project presented and the team involved that had had to overcome many challenges in order to successfully complete the project. At that point I thought to myself that the title "engineer" really is something to be proud of. It means a lot."

By becoming professionally registered, all Chartered Engineers (CEng), Incorporated Engineers (IEng) and Engineering Technicians (EngTech) have demonstrated their competence and commitment against an internationally recognised standard. This includes a personal commitment to professional standards, recognising obligations to society, the profession and the environment.
Academic qualifications are not a requirement for professional registration, which is open to any competent, practising engineer or technician. What matters is the standard you've reached, not the route you took to get there. Find out more about becoming professionally registered from our Pocket Guide to Registration.
Image credit: Software engineers in discussion in office, © Facebook