Opportunities to volunteer with EngineeringUK's Big Bang
Published: 21/02/2023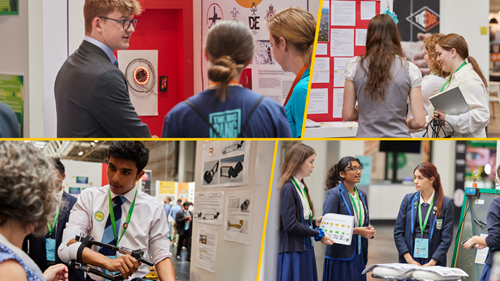 EngineeringUK are looking for volunteers to get involved with the Big Bang Fair and to be judges for the Big Bang Competition. Big Bang activities aim to engage young people with Science, Technology, Engineering and Medicine (STEM) and inspire the next generation of engineers and scientists.
The Big Bang Fair will be taking place from Wednesday 21 to Friday 23 June 2023 at The NEC in Birmingham. It is the UK's largest celebration of STEM for young people and includes hands-on activities, workshops and talks, as well as careers inspiration, advice and opportunities for young people to meet with scientists and engineers.
The Big Bang Competition is open to young people in the UK aged 11 to 18 who can enter a project either on their own or as part of a team; it's free to enter. Previous projects from the Competition can be viewed on the Big Bang Project Gallery.
As well as a rewarding opportunity to make a difference in young people's lives, volunteering is a chance to build your personal development and network and can count towards your Continuing Professional Development (CPD).
If you are keen to inspire the next generation of scientists and engineers – by facilitating activities, being a guest speaker or judging student projects - you can find out more about the opportunities available here. Applications close on 30 March 2023 for Big Bang Competition judges and on 3 April for Fair volunteers.