Call closed: UK-wide Auxiliary Engineering Support - NHS England
Published: 14/04/2020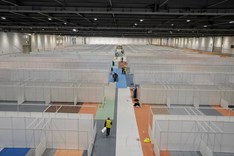 Thank you very much to all who have expressed interest in volunteering - over 1,000 expressions of interest have been received. Someone from the NHS team will be in touch if you are needed in one of the Nightingale hospitals.
Following the initial call for support in London, Manchester and Birmingham, the call is now reissued and extended across the UK, in preparation for a potential need for auxiliary support.
Time is of the essence and it is likely that volunteers will be needed on site and in the regional hospitals within the week, if not within the next few days.
In order to maintain patient care, many clinical and support staff have been drafted in from their Trusts to take up roles within these field hospitals. However, this will leave both the Trusts and the Field Hospitals short of technical and logistical support, which they will need over the coming weeks.
We have been approached by the Royal Academy of Engineering, on behalf of NHS England, to ask for volunteers to help with a range of engineering requirements that will enable them to continue to deliver frontline services, this time across all regions and nations.
A job description for Auxiliary Engineering Support outlines the type of tasks and experience required.
We have been advised that appropriate training, supervision and Personal Protective Equipment will also be provided by NHS Clinical Engineering staff, and that hotel accommodation at the Field Hospital sites and close to the Trusts will be provided for those that need it.
Please view the role description and register your interest on the Academy's website, where you can complete a short form to add your name and competency details to a database of volunteers. Selection will be made by the NHS Team based on need.
NHS England thanks thanks the engineering community for its continuing commitment to the profession and all that it stands for, in these extraordinary times.