Engineering changing the world around us - Tomorrow's Engineers Week 2022
Published: 07/11/2022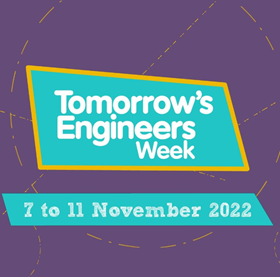 Engineering is a creative, problem solving, exciting career in which no two days are the same. That's what professionally registered engineers and technicians tell us – and they work in all sorts of roles and organisations you might not expect.
Almost everything we use or buy comes in packaging and Mamta Singhal MBE BEng (Hons) MSc MBA CEng MIET FWES works to make that packaging more sustainable. "I currently work in a Global team at Diageo Plc focusing on packaging sustainability solutions. I joined the team in February 2021 and really see this as such an important area, as I think engineers hold the key to overcoming some of the major sustainability challenges." Mamta is neurodiverse and was diagnosed as dyslexic when she was 17. "I realised my brain was wired differently to the average person. I focused on my strengths and realised that engineering and creative fields would be the best avenue for my skill-set."
Buildings, from homes to schools and hospitals, aren't just bricks and mortar - they also need power, heat, light and ventilation to work effectively for the people who use them. Engineers are a big part of making that happen, like lighting engineer Kimberly Bartlett EngTech AMILP MIET MCIHT – "I design light and lighting for all facets of the built environment, providing safe and inviting places to live, work and play". Kimberly also volunteers "as a Science, Technology, Engineering and Mathematics (STEM) Ambassador, both as part of and outside of work, which is incredibly fulfilling. My goal is to get young people interested in STEM and specifically engineering. I hope that my passion and excitement for my discipline can inspire more girls and LGBT people to enter the profession." On a smaller scale, Simon Dobson LCGI EngTech MIET MInstLM works for a registered social landlord and his "key responsibilities are to ensure that electrical installations are safe for use by the general public… On a typical working day, I test and inspect electrical installations, identify anything I consider dangerous, rectify the problem and compile a report and supporting documentation. No two days are ever the same and you never really know what to expect."
Working on projects anywhere from the Scottish Borders to the Shetland Islands, Alison Scott BEng (Hons) IEng MIFireE is a Fire Engineer and Watch Commander for the Scottish Fire and Rescue Service. "I receive plans and fire engineering strategies from fire engineers, architects and Building Standards, and review these… Depending on what issues arise, I could liaise with fire engineers, architects, developers or Building Standards officers to discuss the findings and come to a successful conclusion."
In the UK, we take for granted that clean, safe water will be available when we turn on a tap. But that only happens because of the work of engineers like Matthew Foyle MSc BEng IEng MIET at Wessex Water. He finds that "No two working days are the same, which is one of the things I love most about my role… Working within the water industry on water treatment plants is a big responsibility and I am proud of the work I undertake in ensuring that the highest quality of water is delivered to customers. I enjoy the day-to-day challenges and learning about the latest engineering technologies such as Building Information Modeling (BIM), 3D design and artificial intelligence."
Transport, whether that's roads, railways or cycle paths, keeps moving because of people like Catherine Cobb BEng(Hons) EngTech MICE MIHE, a Traffic Signals Engineer. "The thing I find most enjoyable is the knowledge that I have made the roads safe with the signals I have designed. Also the innovation that is required and the ever-changing technology that is present in the signals industry."  Oyeniyi Ibidapo-Obe MSc CEng FIHE also works with transport and finds "Working on London's road network comes with its own set of unique challenges. I am required to develop innovative solutions to make the most out of the finite road space in London… I also enjoy making a direct positive impact on local communities by developing proposals to address road safety concerns and ensuring their effectiveness by investigating levels of collisions after implementation".
Working for Google, Dr Larissa Suzuki BSc MPhil PhD CEng FRSA MIET AFHEA's job is "extending human knowledge of Artificial Intelligence (AI), smart cities and sustainability, federated learning and interplanetary internet communications. I work at the intersection of engineering, product and innovation, ensuring we can design technologies which will cater for the future of engineering".
All these engineers and technicians are members of a professional engineering institution, which means they're part of an engineering network and gives them access to advice, information and events. They're also professionally registered with the Engineering Council, so they have had their competence assessed by other engineers in their field against an independent standard – and committed to keeping their knowledge and skills up to date.
Find out more about where a career in engineering could take you, from Neon Futures or This is Engineering.