Tomorrow's Engineers Week 2023 - Inspiring young people to build a better everyday
Published: 06/11/2023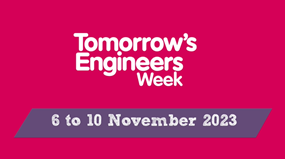 The annual celebration of the engineering profession brings engineering careers to life for young people, showcasing the benefits of a career in this sector.
It's an ideal opportunity for aspiring engineers to explore and discover the world of engineering and gain insight into how they can help shape a better future.
Engineering covers a diverse range of disciplines and sectors, and can appeal to anyone interested in science, technology, construction and manufacturing.
Working as a reliability manager, Paula Louise Pritchard PGDip MEng CEng MIET MINCOSE, was inspired to become an engineer by a 1990s television show called Bugs, which featured a female engineer and inventor, Roz, "who regularly saved the day by using her intelligence and ingenuity. At that time, I didn't know that you could make a career out of designing technology. The show was one of the first to portray female characters as mentally strong". When her sixth form maths tutor suggested she look at engineering as a career option, she discovered "that people like Roz actually existed and, even better, I could make a career out of designing stuff".
Project Engineer, Euan MacLean IEng MIMechE, gained interest in Science, Technology, Engineering and Maths (STEM) extracurricular activities at school and always had a questioning attitude about how and why things work. His involvement in an Engineering Education Scheme school project was in fact a collaboration with his current employer.
Head of Plumbing at a sixth form college, Lucy Mawer EngTech MCIPHE RP QTLS, developed a passion for engineering at school and specialised in plumbing at college, where she gained her qualifications and a subsequent apprenticeship to further develop her knowledge and skills. After several years working in industry, and even owning her very own female plumbing company, where she took on many apprentices, she decided to go into teaching: "I've been able to help learners achieve new skills and knowledge to achieve their goals. Passing on my skills and knowledge and seeing my students succeed into their chosen career, is rewarding too."

Dubai-based Welding and Metallurgy Engineer, Mubashir Bashir Bhutta MSc CEng MWeldI, was curious about how things fitted together and how they worked, and so with some encouragement from his father, decided on a career in engineering. His engineering role involves a range of responsibilities: "I prepare and maintain the quality management system of the company. I help the design department in the selection of materials being used in various sections of boiler and high-pressure and high-temperature piping. I also perform metallurgical analysis of components which fail, either during the construction or during the operation."
Many people discover their passion for engineering by accident. Rebecca Hatch MBA IEng MILP, leads a team of around 70 lighting and electrical professionals at WSP. Although her interests aligned more with science subjects, she was unsure of what she wanted to do after leaving school. Working as a Junior Technician with support for day-release to college to study, she completed her HNC in Electrical & Electronic Engineering where she found her passion for lighting: "Seventeen years later and I am still as enthusiastic and still learning every day. I wouldn't change the route I took into the industry but if anyone is considering a career in engineering now, I say jump in feet first – you won't look back."

Electrician, Simon Dobson LCGI EngTech MIET MInstLM, developed an interest in science and technology at school but was intrigued by electrical engineering. Advised to take up an apprenticeship as an electrician, he sat a competency examination as part of his application which allowed him to study towards becoming a qualified electrician. In his current role working for a housing association, he finds the "problem-solving aspect the most enjoyable".
These engineers and technicians have taken different routes into engineering. You can find out more about the various engineering career options by visiting the This is Engineering website.