Industry and peer reviewed Standards support post-16 engineering education
Published: 13/08/2021
The Engineering Council's Standards can help learners, their parents, careers advisors and employers to navigate the rapidly-changing landscape of post-16 qualifications.
There are multiple routes into an engineering career, including apprenticeships, A levels and T Levels (as these develop), with currently over 200 engineering qualifications to choose from. To help potential learners select the right course for them and their future career prospects, it may be useful to seek out a programme which has been recognised (approved or accredited) by the Engineering Council.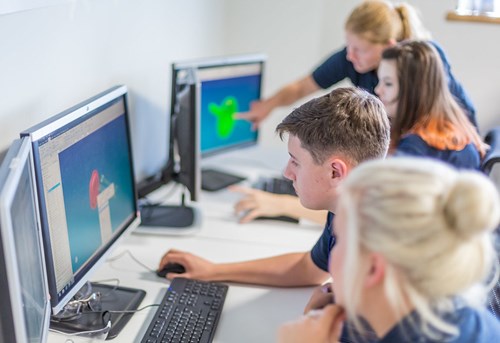 The Engineering Council is the regulatory body for the UK engineering profession. It sets and maintains internationally recognised standards of professional competence and commitment and holds the database of professionally registered engineers and technicians, who have been assessed as meeting this standard. A recognised programme is a course which has been scrutinised and assessed against these standards, as providing the required underpinning knowledge and understanding.
The Engineering Council has a publicly-searchable database to enable prospective and current students, employers, universities and the public to check whether a specific course is recognised. This is available at: www.engc.org.uk/courses
The Engineering Council's standards are regularly reviewed, following wide consultation with the engineering profession – including industry and academia – across many different disciplines. This helps to ensure that they remain up-to-date, supporting the development of relevant skills and expertise across the breadth of the profession.
The Accreditation of Higher Education Programmes (AHEP) covers university degrees, while the Approval and Accreditation of Qualification and Apprenticeships (AAQA) has a wider scope, covering apprenticeships and other qualifications from Level 3 to Level 7, a wide range of delivery providers, and a diverse range of delivery methods.
The number and range of available apprenticeships, which allow apprentices to earn while they learn, has increased. Apprentices will typically work towards nationally recognised qualifications (either at college, university or through block release or e-learning and webinars), with the rest of their time spent developing technical skills and 'on-the-job' knowledge with an employer. Apprenticeships now exist up to Masters level and the Government's 'Find an apprenticeship' search shows the apprenticeships available in a given location or specialism.
Programmes of learning are recognised by one or more of the professional engineering institutions licensed by the Engineering Council. For a programme to be recognised, it must also meet the requirements in terms of delivery, assessment and Quality Assurance. So recognition provides assurance that a course is being delivered and assessed to an external standard, as well as delivering outcomes that are relevant to the engineering profession and employers. For apprenticeships, technical and vocational qualifications, the dialogue between industry, engineering institutions, training providers and employers ensures that learners on recognised programmes are gaining relevant, practical skills which will be of immediate use on completion. 
Individuals who have completed a recognised programme have also taken a step towards professional registration as a Chartered Engineer (CEng), Incorporated Engineer (IEng), an Engineering Technician (EngTech) or an ICT Technician (ICTTech). Registrants who hold these titles have demonstrated they possess and maintain the knowledge, skills and commitment required to meet the engineering and technological needs of today, whilst also catering for the needs of future generations. Professional registration provides a benchmark through which the public, employers and their clients can have confidence and trust that registered engineers and technicians have met globally recognised professional standards.
Registration is open to any practising engineer or technician who can demonstrate the required competence - what matters is the standard registrants have reached, not the route they took to get there. Find out more about the benefits of professional registration from our video.
Whether starting a career in engineering, looking to develop it further, or coming back into the workplace after a break, programmes recognised by the Engineering Council  deliver outcomes (and for apprenticeships, skills and competences) that are recognised by the profession.
Image credit: Engineering students © Rolls-Royce PLC