Studying engineering 'turbo boosts' social mobility, research shows
Published: 25/05/2021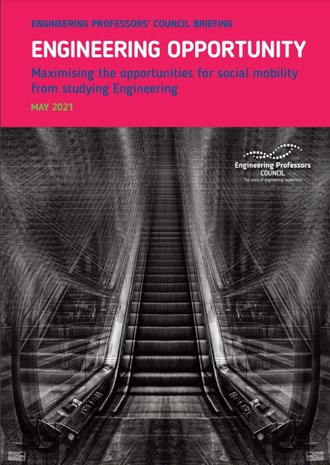 A new study, published by the Engineering Professors' Council (EPC), reveals that studying an Engineering degree gives individuals a greater boost to social mobility when compared to other subjects.

The EPC, which represents engineering academics across UK universities, found that data relating to graduates' earnings, backgrounds and entry qualifications suggests that the gap between the incomes of Engineering graduates from different socio-economic backgrounds was significantly smaller than for other graduates.

The EPC's Chief Executive, Johnny Rich, commented:

"We have found clear evidence that Engineering makes a significant contribution to social justice for its graduates – perhaps to a greater extent than almost any other discipline in higher education."

The Engineering Opportunity report data demonstrates that the average salary of Engineering graduates, ten years after qualifying, is £42,700. This is £11,700 more than the average annual salary of other graduates.

While some of this was down to pre-existing characteristics associated with higher earnings (such as higher entry grades, gender, region and social status), this could not account for the whole gap and the higher earnings were relatively evenly spread across the country.

The study concludes: "Choosing to study Engineering in higher education really does increase labour market success, one of the drivers of social mobility."

EPC Chief Executive Johnny Rich said:

"Our findings demonstrate that not only is Engineering higher education critical to the future of our economy, our regions and our environment, it is also a great social leveller, providing a more equal chance to succeed for all students regardless of their background.

"Aspiration among young people is not lacking, but opportunity is. We need to build a system – through education and into employment – that engineers opportunities for all who want to realise their potential."

The report identifies key areas in which Engineering is failing to maximise its impact and makes seven policy recommendations to further enhance the social mobility gains achieved through higher education, and Engineering in particular.

These include: wider access to 'triple science' at GCSE; more radical and widespread consideration of students' backgrounds in university admissions; entry grades automatically adjusted to account for background; expansion of foundation years; conversion courses to support students academically; use of metrics that focus on the value added to each student rather than unfair comparisons; and regulation of university access at the level of subject areas as well as whole institutions.

Johnny Rich said: "In true engineering style, we have chosen to focus our recommendations on steps that are suggested by the evidence we have examined. We have proposed practical and immediate changes that would have an impact far beyond the scale of their implementation."

EPC President, Professor Colin Turner, added:

"We must build on our success in creating chances for students by maximising their potential. We must level the playing field of educational opportunities in schools. We must support those with BTECs or from disadvantaged backgrounds to gain access to Engineering degrees and foundation years. We must support them to succeed by addressing their academic needs. And we must help them to progress into the workplace where they can build opportunities for generations to come."

Read the Engineering Opportunity report on the EPC website.