Rooke Award 2023 winner announced
Published: 31/07/2023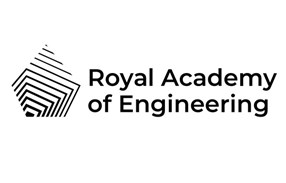 Congratulations to inventor and entrepreneur, Ruth Amos, who has won the 2023 Rooke Award, one of the Royal Academy of Engineering (RAEng)'s most prestigious awards. The British inventor, presenter, professional speaker and co-founder of the YouTube channel 'Kids Invent Stuff' was presented with the accolade at the RAEng Awards Dinner on 13 July.
Ruth's work has inspired children in a variety of ways, and she has established strong connections with industry partners and institutions to create new outreach projects. As co-founder of 'Kids Invent Stuff' with fellow inventor, Shawn Brown, Ruth creates videos that are aimed at directly engaging primary school children with STEM (Science, Technology, Engineering and Maths) subjects. This includes opportunities to submit invention ideas to be brought to life by real engineers. The channel has had millions of views and annually has over 10,000 invention ideas submitted.
Her latest project is the Spirit of Invention exhibition at The National Archives, which is open to the public until the end of October. It is a free exhibition to encourage people to think about what it means to be an inventor.
Ruth said: "I am so excited to receive this award from the Royal Academy of Engineering and it is great to spread awareness that engineering and inventing can take many different forms. The challenges of the future can't be tackled without the involvement of younger generations."
Previous winners include astronaut Major Tim Peake CMG in 2019 and engineer and founder of EqualEngineers, Dr Mark McBride-Wright in 2022.
Named after past RAEng President and Academy Fellow Sir Denis Rooke, the Rooke Award is awarded to an individual or small team based in the UK that has supported the Academy's aims and work and promoted engineering to the public.
For further information on the Rooke award, please visit the Royal Academy of Engineering website.