Report gives key recommendations to improve diversity and inclusion across the sector
Published: 15/09/2021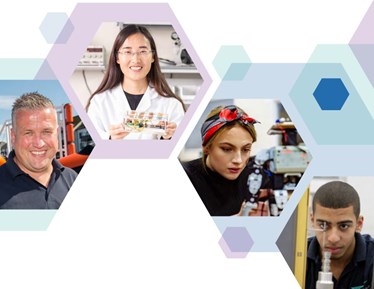 Diversity and inclusion (D&I) is gradually progressing across engineering and scientific bodies, but data collection remains a challenge, according to a recent report. The Diversity and Inclusion Progression Framework Report 2021, co-published by The Royal Academy of Engineering (RAEng) and the Science Council, follows up on the first Progression Framework benchmarking exercise, carried out in 2017.

The Diversity and Inclusion Progression Framework is a tool created to help professional bodies track and plan progress on D&I inclusion across ten areas of their activity. Developed in collaboration between RAEng and the Science Council, the Framework was reviewed and updated last year, with input from professional engineering institutions (PEIs) and Science Council member bodies. 

The latest report surveyed PEIs, scientific bodies as well as RAEng, the Science Council and the Engineering Council. The results demonstrate a gradual increase in the representation of women and ethnic minorities, both on boards and in membership, since the 2017 report. Women now make up 50% of those in senior leadership positions in PEIs (CEOs and senior management teams) and 58% in scientific bodies. People from minority ethnic backgrounds comprise 15% of those in leadership positions in PEIs and 22% of those in leadership positions in scientific bodies.

The report noted that data collection is not consistent across all categories of D&I, with age and gender the most commonly recorded. As only a limited number of PEIs or scientific bodies provided data on the proportion of members who are from ethnic minorities, any apparent trends in this data must be treated with caution. Data on religion, disability, sexuality and other protected characteristics was considerably more sparse.

The report makes five recommendations for improving D&I progression:
identify and address barriers to data gathering
broaden the focus of activity to other under-represented groups
resource and recognise the work
use the Framework to plan for progress
establish a community of practice
See the D&I Progression Framework and read the full benchmarking report on the RAEng website.