Visionary behind Hubble Space Telescope control system and passenger safety technology awarded Prince Philip Medal
Published: 16/11/2022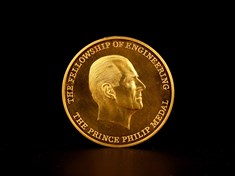 Space technology pioneer Dr Asad Madni FREng has been presented with the Academy's most prestigious individual award, the Prince Philip Medal. Her Royal Highness The Princess Royal, Royal Fellow of the Royal Academy of Engineering (RAEng), presented the award in London on 8 November. The award recognises Dr Madni's decades' long career developing and commercialising intelligent sensors and systems across the aerospace, manufacturing and transportation industries.
The Prince Philip Medal is presented in honour of the late Prince Philip, Duke of Edinburgh KG KT, who was Senior Fellow of the Academy. The award is made to an engineer of any nationality who has made an exceptional contribution to engineering.
Dr Madni served as President, COO and CTO of BEI Technologies Inc between 1992 to 2006, during which time the organisation became the world's largest independent supplier of yaw sensors for cars. He pioneered some of BEI's most noteworthy technical successes and also led the development of the control system for Hubble Space Telescope's star selector. While the new James Webb telescope has now made huge advances, Hubble's control system paved the way with unprecedented pointing accuracy and stability, resulting in truly remarkable images that have enhanced our understanding of the universe.
Dr Madni has been a committed philanthropist, mentor to young professionals and a champion of diversity and inclusion for underrepresented groups. In the US, he spearheaded and financed a highly successful programme that helped retrain hundreds of displaced aerospace and defence engineers to obtain new positions in industrial and commercial industries.
The global impact of Dr Madni's pioneering technical contributions has been recognised worldwide with more than 100 major international honours, six honorary doctorate degrees and six honorary professorships. Dr Madni has delivered lectures in more than 40 countries.
Dr Asad M Madni FREng, winner of the 2022 Prince Philip Medal, said:
"I am extremely grateful to have had my and my team's innovations and contributions play an important role in saving millions of lives around the world; in helping us extend the limits of space exploration and enhancing our understanding of the universe; and in enhancing defence and security systems around the world. Receiving the Prince Philip Medal, the Royal Academy of Engineering's most prestigious individual honour, with a roster of past recipients that includes giants whose contributions have shaped human progress, is truly a most gratifying and humbling experience".
See the full announcement and more details of Dr Madni's achievements on the RAEng website.