Opportunity for aspiring entrepreneurs in Northern England and Northern Ireland to apply for business start-up funding and support
Published: 26/01/2023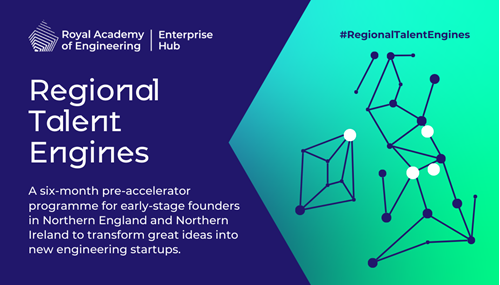 Applications are now open for Regional Talent Engines – a programme to support entrepreneurial mid-late career engineers who have an innovative concept for an identified market solution. Run by the Royal Academy of Engineering's (RAEng) Enterprise Hub, the programme aims to help successful applicants to grow their ideas into start-up businesses. It offers a grant of £20,000 equity-free funding for living and business costs, as well as six months' support to prepare them for commercialising their engineering solutions.
Designed to boost innovation across the UK by helping to grow local ecosystems and create jobs, the programme is open to applicants across Northern Ireland, North West England, North East England and Yorkshire & the Humber who also have experience in engineering or technology. The programme prepares those seeking a career change as an entrepreneur to bring their concept to market, pitch for future investment or join one of the Enterprise Hub's further programmes to grow their business.
Applications are open until 6 March 2023 with the programme commencing in Spring 2023. Full details of the programme including guidance notes can be viewed on the Academy's website.