Nominations now open for the 2024 Royal Academy of Engineering MacRobert Award
Published: 20/10/2023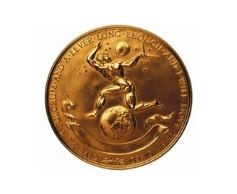 Nominations for the MacRobert Award, one of the UK's highly regarded prizes, are now open.
The Award, named in honour of geologist, Lady Rachel MacRobert, is run by the Royal Academy of Engineering (RAEng). It was founded by the MacRobert Trust, with support from the Worshipful Company of Engineers.
Celebrating its 55th anniversary next year, the MacRobert Award recognises outstanding innovation combined with proven commercial success and tangible societal benefit.
The 2024 winner will receive a £50,000 cash prize, prestigious gold medal, national acclaim, and widespread publicity as well as an exclusive weekend retreat at Douneside House in the heart of the MacRobert estate in Aberdeenshire.
Previous winners have included engineering experts behind innovations such as the Pegasus jet engine, catalytic converters, the roof of the Millennium Dome and intelligent prosthetic limbs.
Ceres Power was announced earlier this year as the 2023 recipient of the gold medal for its pioneering clean and reversible energy technology, including fuel cells for power generation and electrolysers for green hydrogen. Hailed by the MacRobert judging panel as a huge breakthrough in the clean energy revolution, the fuel cell technology has been designed to generate power from a range of different fuels with greater efficiency than current market alternatives – pivotal in global efforts to decarbonise and tackle climate change.
Nominations for the 2024 Award close on 31 January 2024.
For further information on the MacRobert Award, please visit the RAEng website